Norwich has seen almost half of the region's fatal overdoses so far this year
While data the state Chief Medical Examiner's Office released last week spell bad news for the whole state — it could see more than 1,000 fatal overdoses in 2017 — they also show deaths in southeastern Connecticut are increasing at an even faster rate.
The 1,078 projected deaths statewide represent an almost 18 percent increase over 2016. In The Day's coverage region, the 92 people who are expected to die of drug overdoses in 2017 equate to a more than 24 percent increase over last year.
If the rates hold steady, 38 of those 92 people, or 41 percent, will have been from Norwich.
Lee-Ann Gomes, the city's human services director, said it's "disappointing but not surprising" that the numbers continue to climb. With fentanyl and even more powerful drugs increasingly making their way onto the streets, it's a problem that likely will get worse before it gets better.
It's harder to explain why more fatal overdoses are originating in Norwich, she said. Cities with hospitals expect to see more such deaths because many occur at hospitals. But so far this year, 19 of the 21 people who died in Norwich were residents of the city and 19 of them sustained their injuries, or overdosed, within city limits.
In other words, it's not as though people from other towns are coming to the city, buying and using drugs and accidentally overdosing. It's a homegrown problem.
"Why Norwich?" Gomes asked. "I don't have a good explanation. But we do have the most housing stock in the county. By virtue of that there are more people here."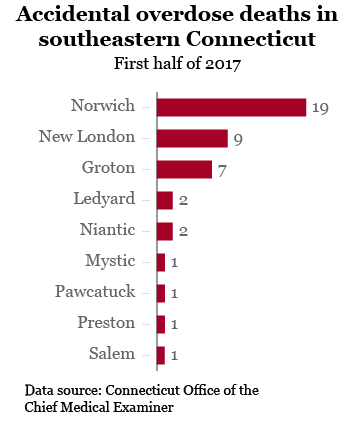 Angela Duhaime, who coordinates the city's Partnership for Success grant and also sits on the New London-based Opioid Action Team, speculates that many city residents aren't aware of the programs they can access before it's too late.
That's why Duhaime is focusing part of the state Department of Mental Health and Addiction Services grant on initiatives to spread the word about what's available. Some of that will be done through a campaign dubbed "Norwich Unhooked." While its target audience is youth, its reach will extend beyond that.
The campaign, for example, is sponsoring the annual Harlem Wizards versus Norwich Free Academy teachers fundraiser, meaning its logo will appear on the back of tickets and information about it will be available to entities from the recreation department to the senior center.
Duhaime and a part-time employee she brought on through the grant also are planning to host a plethora of information sessions — at Three Rivers Community College, within the school district, in the waiting rooms of city government departments, you name it.
It's all accented by a website, norwichunhooked.org, that launched last week and will be accompanied by a social media campaign. Within its pages, one can take a substance abuse self-assessment, learn where to go locally for treatment or support and find out what events Norwich Unhooked has coming up next.
"People, when they're looking for services, it's usually in a crisis situation," Duhaime said. "I don't think we can expect people to become professional experts in substance abuse, but if we're there providing information on a regular basis, hopefully they'll remember where to turn."
Gomes said she already can see evidence of a shift in public behavior. More and more people, aware that addiction to drugs like fentanyl and heroin can begin with prescription medications, are asking doctors for something less strong when they can, for example.
But Gomes knows, too, that after opioid-related deaths begin to fall, something new will come along.
"You're not addicted to the drug, you're addicted to the way it makes you feel," she said. "Addictions need to be addressed continuously. We need to have systems in place so the community and its partners can respond quickly to the next thing."
In New London, meanwhile, Human Services Director Jeanne Milstein has found a silver lining in the numbers. In the first half of last year, 17 people who died of overdoses sustained their injuries in New London. In the first half of this year, that number was nine.
Milstein said she attributes the decrease to two things: first responders quickly getting to folks with naloxone, an overdose reversing drug, and the work of the regional Opioid Action Team.
Consisting of more than two dozen area health, social services and emergency services agencies, the group has been meeting monthly for about six months. They plot how to move forward with the city's voluntary sober house certification process. They discuss stocking naloxone in neighborhoods that have a higher-than-average number of overdoses. And they work to make all stages of the process — addiction, detoxification, recovery — more seamless.
Recently, when K2 emerged as an issue in the city, they transferred the model they created for opioids to that drug and saw great success, Milstein said.
"This is a 24/7 priority," she said, "and I believe our efforts are starting to pay off."