State, region see uptick in crash fatalities
The number of traffic fatalities seen nationwide increased in 2016 for the second straight year, according to a new federal report, and local data show Connecticut's jump was even higher.
The 37,461 people who died in crashes across the country represents a 5.6 percent increase over 2015. Connecticut's 306 deaths, however, are a leap of 10 percent over the 278 that happened in 2015.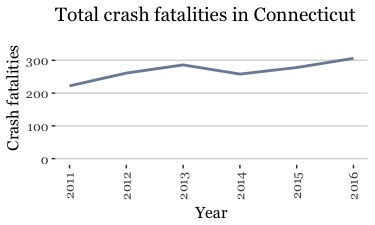 Data source: Connecticut Crash Data Repository
In its report, the National Highway Traffic Safety Administration called out motorcycle and pedestrian-involved crashes as incidents that became increasingly fatal last year. It also noted that while deaths involving distracted driving were down, deaths from crashes caused by speed, drunken driving or lack of a seat belt increased.
The decrease in distracted driving may come as welcome news to police departments, which have amplified their efforts to enforce laws regarding the use of phones while driving. But a representative of AAA is cautioning the public against jumping to conclusions.
"I feel like the indication that there are fewer distracted driving crashes overall is very misleading," said Amy Parmenter, spokeswoman for AAA in the greater Hartford area.
NHTSA's numbers stem from police reports, she explained, and it can be hard for officers to say for certain that distraction was a cause in a fatal crash. They're much more likely to point to speed or the lack of a seat belt, she said.
Just last month, AAA's research arm released data that show people increasingly are being distracted by their in-vehicle entertainment systems in addition to their phones.
"How does a police officer tell if a person was distracted by trying to look at a map in their car?" Parmenter asked rhetorically.
Previous AAA research also found, at least among teens, that drivers are more likely to have been distracted prior to crashing than is recorded in police reports.
"The key here is that there's so many factors at play," Parmenter said. "It's not just one thing. We have the old standbys (alcohol and speeding). Add to that distraction and drugs and it's no wonder we're headed in the wrong direction."
The NHTSA report doesn't get into town-level data, but the UConn Connecticut Crash Data Repository does.
According to the repository, traffic fatality trends vary widely in southeastern Connecticut, where most towns see a relatively small number of fatalities each year.
Preston, for example, averaged about one death per year from 2011 to 2015, but then saw four in 2016.
Groton dramatically reduced its fatalities from 2011 to 2014, but has since had a slight uptick.
Deaths in Norwich and Ledyard, on the other hand, clearly have been trending upward.
It's important to note that some towns, including Norwich, can experience higher numbers of serious crashes because they have interstate highways running through them.
But in Ledyard, a town overrun with curvy, hilly, narrow roads, it's a troubling trend the police department prioritized when it became independent last year. In early 2016, officers launched an effort to boost enforcement on problem roads, such as Shewville Road.
According to Chief John Rich, Shewville had seen an average of 20 crashes per year in the three years prior to April 2016. But since increasing enforcement — officers have made almost 500 stops on the road since Feb. 1, 2016 — that average has been closer to 15.5.
Rich also pointed to a recent initiative in which police and public works employees have been working with homeowners to improve visibility along some of Ledyard's roads by removing vegetation.
The department recently highlighted one such occasion in a Facebook post in which they thanked Louisa Knowles, owner of property at Iron Street and Shewville Road, for allowing the town to remove view-obstructing shrubs. Several commenters under the post noted how dangerous the intersection can be and thanked Knowles for her cooperation.
"I can't stress enough, as the person responsible for running this police department, how much every traffic fatality is such a loss to the community," Rich said. "We want to do everything we can do to reduce that possibility and risk."
"I think we have made some significant progress," he added.
Stories that may interest you
TRENDING
---
---