Behind the scenes: Officers converge on region for K-9 training
K-9 handlers from several states converged on southeastern Connecticut Oct. 24-26, prepared to learn from some of the continent's best during a three-day, 27-hour seminar.
This advanced training featured equipment and techniques that even some of the more experienced officers hadn't encountered.
The training didn't focus exclusively on K-9s, either — after all, handlers are officers first.
Officers began at a crawl in New London, learning and practicing everything from working with longer-than-usual leashes to bandaging a dog's wound.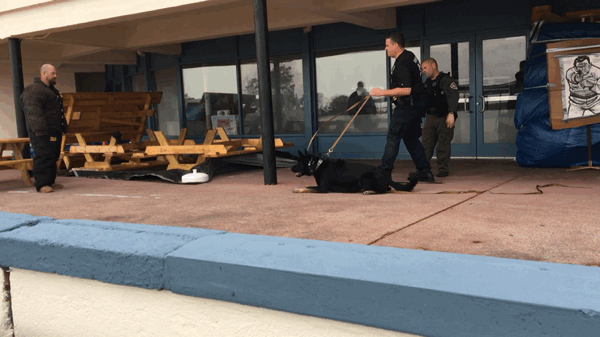 A student practices the gradual release of a 15-foot "long line" in New London on Tuesday, Oct. 24, 2017. (Lindsay Boyle/The Day)
By the second day, students, aided by instructors, walked through situations in Groton that required them to use more than one of the skills they had learned the previous day.
Day three in East Lyme brought an all-out run as officers were faced with real scenarios, such as escaped inmates or active shooters, and asked to make decisions on their own.
The crawl-walk-run module is intentional, according to master trainer and CPWDA President Dan Lane.
"We taught you the proper way to do everything individually," explained Lane, who is an officer with the Waterford Police Department. "Now you have to put everything together — and that's the tough part."
"That's why we want the muscle memory," he continued. "We want everybody to go out the door a winner."
Today we take you behind the scenes of all three sessions, which were funded by the Connecticut Police Work Dog Association and made possible by the North American Police Work Dog Association.
1
Day 1: Crawl
New London police Officer John Michaud, playing the part of a decoy, grimaces as he is subdued by one of many police dogs during a training exercise at Ocean Beach Park in New London on Tuesday, Oct. 24, 2017. Michaud had to withstand multiple attacks by the dogs during the training, and even though he was wearing a protective suit, the dogs' bites can still hurt and cause bruising. (Tim Cook/The Day)
The seminar's 24 students, 10 trainers and 10 observers spent the first part of day one in the classroom, learning what they'd soon be living.
Then they split into groups, ready to navigate various stations. It was go time.
Station 1: Shooting
Paper targets lined the rear wall of Port 'N Starboard at Ocean Beach, illustrated with armed and angry men.
The task was simple: pull the simulation gun from its holster and aim at the man's hand. But as the students fired away, the instructors eyed them closely.
Did the officer look down while pulling the gun? Did he keep a steady grip on the leash in his weak hand? And how did the dog react to the sim gun's muted report?
It's not about reprimanding the students, Lane said. He just wants them to practice — and practice the correct way.
"If you don't learn from a mistake," he said, "you continue to do it."
Station 2: The long line
In their day-to-day routines, many handlers work with a 4- or 6-foot leash. During the training, however, instructors introduced them to the 15-foot "long line."
It's a tool particularly useful for building and outdoor searches, but it comes with a learning curve.
Handlers should pull themselves in swift increments of several feet at a time if they want to move toward their dog, for example. But if a dog is trying to move farther out, the handler should hold the leash so it slides slowly through his hand — otherwise he'll find himself being dragged into an unknown situation.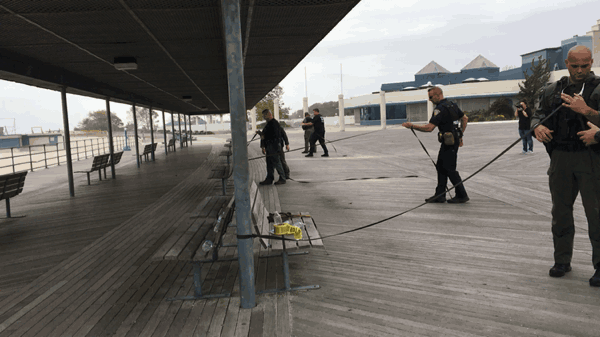 Handlers with 15-foot "long lines" learn how to reel themselves in on Tuesday, Oct. 24, 2017. (Lindsay Boyle/The Day)
It's worth mastering the techniques, master trainer Doug Wannemacher said, because the long line can tell a story.
A dog that finds a suspect will point directly toward the person and begin to bark. If the person happens to be behind a corner or a door, the angle of the leash will tell a practiced handler almost exactly where the suspect is, giving the handler the upper hand.
"We want them to learn how to read the leash," Wannemacher said.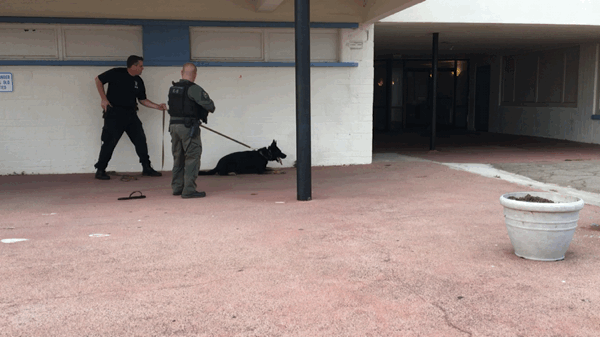 Master trainer Doug Wannemacher spent part of Tuesday, Oct. 24, 2017, teaching students how to "read" the angles of their 15-foot long lines to figure out where perpetrators are. (Lindsay Boyle/The Day)
Station 3: Throw and go
So you've searched for a suspect only to find him pointing his gun directly at you. What do you do now?
That's what trainer William McKay, a deputy sheriff with the Dutchess County (N.Y.) Sheriff's Office, tackled during his segment.
He was teaching the "throw and go," an aptly named technique in which handlers drop the leash, send their dogs and begin to sidestep.
Newer handlers sometimes freeze when presented with such a situation, McKay said. They may drop the leash but forget to issue a command. Or they may forget to send the dog altogether.
Done correctly, the throw and go will distract a suspect for 3 to 5 seconds — long enough for the handler to be in a new spot, gun drawn, by the time the suspect looks back up.
"Use your dog to give yourself time to assess the threat," McKay said of his primary message. "The dog is another tool in your tool belt."
Station 4: Dog medicine
If a dog is lying on the ground, injured, what's the best way to approach it to render first aid?
That's just one question students tackled under the direction of Dr. Rob Presley, a veterinarian who works with the Greenville County (S.C.) Sheriff's Office.
Presley approached the lifelike dog mannequin at its back before squatting like a catcher. He then placed his right knee over the dog's neck, gently.
"I don't want to get bit," he explained, before offering another tidbit: A dog that's injured but standing shouldn't be laid on its side — dogs tend to stay in the position that's most comfortable for breathing.
Rob Presley, a Veterinarian with the Greenville County (SC) Sheriff's Office, left, demonstrates the proper way to control an injured Police K9 with out getting bitten with the use of simulated K9 trainer as he instructs Police K9 officers from around the region the proper first aid techniques for their dogs during a seminar at Port n' Starboard at Ocean Beach Park in New London Tuesday, Oct. 24, 2017. (Tim Cook/The Day)
By the end of the hourlong course, students had learned where to find a dog's pulse (inside its thigh area), how to administer CPR (think "Stayin' Alive" and keep that beat) and how to revive a dog with naloxone. They also learned tricks for getting bandages to stick to thick fur and for draining swelling or bloat.
The goal is not to turn handlers into surgeons, but rather to help them get from where they are to a car.
"Everybody wants to buy bulletproof vests, which have never been shown to save a dog," Presley said. "These are the things that work."
Station 5: Human medicine
Most medics are trained to place tourniquets 2 or 3 inches above the wound for best results.
In a chaotic situation, officers may not have the luxury to measure.
"Place it as high as you can," instructed Stan Schultz, a paramedic with Greenville County EMS and a tactical medical for the county's sheriff's office.
Schultz was advising the students how to use hook-and-loop tourniquets: Keep the strap you're pulling straight. Pull until you can't feel a pulse in the limb in question. If it doesn't hurt, you did it wrong.
Connecticut State Police Trooper First Class Ed Anuszewski, whose K-9 is a bloodhound, practices affixing a tourniquet on Tuesday, Oct. 24, 2017. (Lindsay Boyle/The Day)
Schultz dotted his course with useful tips. Wounded in multiple places? Use the tourniquet on the worst injury. Tending to a gunshot wound? Check for the exit wound, too. Not sure if you can pull your gun with your weak hand? Practice.
With the aid of a bleeding mannequin, Schultz also taught the students how to pack a wound with gauze to stop the bleeding.
"In an active shooter situation, this is the stuff we're going to be able to do to make a difference," he said.
2
Day 2: Walk
New Haven police K-9 Officer Martin Feliciano, center, holds Officer Matt Lovelace of the Greenville County (S.C.) Sheriff's Office at gunpoint as Ax, Feliciano's K-9 partner, subdues Lovelace during a training exercise at the former Pleasant Valley Elementary School in Groton on Wednesday, Oct. 25, 2017. (Tim Cook/The Day)
One by one, K-9 teams walked down a long hallway, ready to assist a partner at the end who was attending to a threat outside.
One by one, the handlers got ambushed, attacked by a man who darted from one of the hallway's many rooms.
Many of the handlers successfully used their dogs to help them regain control of the situation. But they also learned an invaluable lesson: If there's a threat outside, there may be a threat inside.
Assume nothing.
It was the second drill of day two, when instructors still were offering some insight but were asking more of the students.
Earlier, the teams had weaved through a library space with several offshoots. Inside some of the rooms stood the paper targets from day one, menacing.
Through a third doorway loomed a surprise: A real man stood in the corner, sim gun at the ready.
"Drop the gun!" one student yelled, forced to send his dog and fire off two rounds when the man didn't initially obey.
Even after the man dropped to his knees and chucked the gun to the side, a trainer cautioned: "Don't go in."
The student, recalling earlier instruction, asked the man to lie fully on the floor.
"What we see in training is a tendency for the students to go toward the perpetrator that the dog is on," Wannemacher would say later. "But you need to stay away because he just tried to kill you. You need to slow down."
3
Day 3: Run
North American Police Work Dog Association trainer Matt Lovelace, right, takes New Britain police K-9 Officer Ray Ouellette and Pup through a training obstacle course inside the former Pleasant Valley Elementary School in Groton on Wednesday, Oct. 25, 2017. (Tim Cook/The Day)
Day three juxtaposed increased camaraderie with an increased sense of purpose. Would the handlers remember everything they had learned as the situations before them became more stressful?
They were about to find out.
In the first fictional setup, handlers were asked to clear a basement room in search of two escaped inmates who may or may not be armed.
It almost wasn't fair for the officer who went first.
Unsure what lay in front of him, Bruce Moro of the New Britain Police Department led his dog down the stairs only to be greeted by a door. He pushed it partway open, paused, then plunged ahead.
To the left sprawled a long hallway. A man standing at the far end fired off two rounds, connecting with Moro's partner. Moro had time only to send his dog toward the assailant before he was ambushed, caught off-guard by a second man who had been standing behind the door.
It was far from perfect, but it was a learning experience for all the students.
Some of the lessons instructors offered afterward? Slow down. Use the long line to figure out where the perpetrators are. Use good communication with your partner to divide and conquer. And don't forget to administer first aid if your partner or dog gets hurt.
"As we're walking through all of this, we're constantly asking questions, like, 'Hey, can you rationalize what you just did?'" Lane said.
Why did you send your dog around that corner? Why did you opt for the Taser instead of pepper spray?
"Now, when you do it for real, you've already started going through these things in your mind," Lane said. "You may not even realize you're doing them. It becomes second nature."
Later in the morning came a second scenario: A disgruntled employee has just shot at the CEO of his company, and the handler is first on scene.
The scenario hit close to home. It was written on the faces of the officers who ran by: This could happen in my town.
Each student took a different approach. Some parked close to the building, others farther away. Some jumped out immediately, others took time to assess. Some sent their dogs, off leash, into the chaos. Some took long ways around to avoid being shot.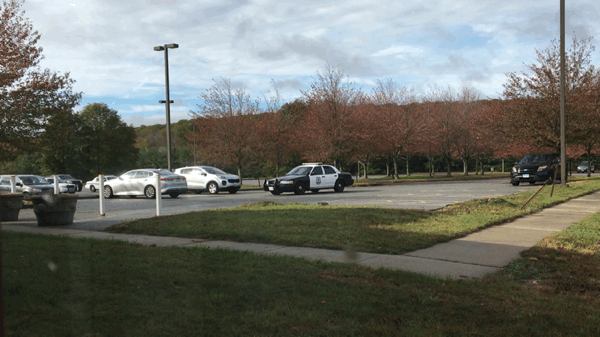 A handler sends his dog off-leash into a scenario in which a disgruntled employee has opened fire on the CEO of his company in East Lyme on Thursday, Oct. 26, 2017. (Lindsay Boyle/The Day)
One, Waterford Officer Patrick Epps, raced straight at the shooter and shot him before he could get farther into the building.
Observing from a nearby car, three New London officers — Joe Kondash, Chris Bunkley and Jeffrey Nichols — reflected.
They thought about structures in New London that have open parking lots, such as the high school, and determined they would angle their cruisers on arrival so they could use them as cover. They decided they wouldn't send a dog in this scenario, either — an idea instructor Matt Lovelace, also of Greenville County, later would validate.
"While we're K-9 handlers, we're all officers first," Lovelace said. "The dog has teeth, and teeth don't stop bullets from being fired."
His biggest message? Have a plan and don't hesitate.
"It's a threat any of us could face at any moment in time," Lovelace said. "The only way to know how you're going to react is to start thinking forward."
4
'Everybody goes home'
William McKay of the Dutchess County (N.Y.) Sheriff's Office, center, is subdued by New Britain police K-9 Officer Ray Ouellette, left, and Pup as North American Police Work Dog Association trainer Matt Lovelace, right, looks on at the former Pleasant Valley Elementary School in Groton on Wednesday, Oct. 25, 2017, at the end of a simulated live-fire obstacle course where McKay was waiting to ambush the K-9 team. (Tim Cook/The Day)
By Lane's ballpark estimate, training like this could cost anywhere from $10,000 to $20,000. There are meals to buy, NAPWDA instructors to fly in and house, sim guns and ammunition to purchase.
The CPWDA also sent students home with some of the materials they used during the course, such as a go bag filled with K-9 first aid tools and an easy-to-use tourniquet.
"Everybody here attended class for free," Lane said. "It's one of those things the association is committed to."
The sessions proved valuable for officers of multiple experience levels. One, who hadn't gone through scenario-based K-9 training in the past, said it was helpful to learn how to handle the situations with a small team. Another, who had done similar training, was thrown for a loop when his partner had a "heart attack" during one of the scenarios.
"If you have a very new dog, we can get you successfully through that scenario," Lane said. "If you have a very experienced dog, we can up that game and push you past your limits."
But those who merely were observing, including New London's officers, found takeaways, too.
Bunkley, for example, said learning how to gauge the angles of a long line was useful. Kondash agreed.
"Being here as an observer is a home run," Kondash said.
More than anything, Lane said he hopes the new skills help more officers make it home safely each day.
"When I started, it was (here's the) dog, see you later," Lane said. "Now we're starting to do specialized training."
"The basic school just isn't enough anymore because of the stuff we have to deal with on the road," he said.