Flu numbers up; health officials urge people to get vaccine
Ana Martinez, a medical assistant at the Sea Mar Community Health Center, gives a patient a flu shot on Jan. 11, 2018, in Seattle. This year's U.S. flu season got off to an early start, and it's been driven by a nasty type of flu that tends to put more people in the hospital and cause more deaths than other common flu bugs. (Ted S. Warren/AP Photo)
This year's flu season has sent hundreds to local hospitals and killed 32 people across the state since August, according to state and federal health officials.
While the number of flu-related deaths is well within the number of deaths reported in Connecticut in the previous eight seasons, state health officials are urging people to get a flu vaccine if they haven't already.
Most of the people who died from flu symptoms in the state were more than 65 years old; one was between 25 and 49 years old, and one was younger than 18.
According to data collected by the Department of Public Health monthly from October to May, 9.7 percent of emergency department visits as of last week were due to "fever/flu syndrome," which is considered high. A total of 824 hospitalized patients have tested positive for flu between Aug. 27 and Jan. 20.
A total of 112 of those positive tests came from New London County. Lawrence + Memorial Hospital has reported 234 positive flu tests since October, and Westerly Hospital reported 65 positive cases. As of Jan. 17, there have been 162 people who tested positive for flu at The William W. Backus Hospital.
The actual number of flu infections could be higher, according to Lawrence + Memorial emergency physician Dierdre Cronin, because not everyone who gets treated for the flu at the hospital gets diagnosed using a positive flu test.
"It's been a pretty virulent season," Cronin said. "We're extremely busy at L+M."
People who come to the hospital with flu symptoms may have to wait to see a doctor because so many other people are coming to the emergency department, but Cronin encouraged people to still go to the hospital if their symptoms are severe.
"It's tough because we get inundated with people who don't necessarily need treatment ... but also the flu can get very serious very quickly," she said. "We would much rather see people than have someone say, 'Oh, I shouldn't go.'"
Trouble breathing, lethargy or a change in mental status are all signs a sick person should visit the closest emergency room, Cronin said.
"By all means, if you're not sure, come see us," she said. "We really don't want someone to stay at home who really should be in the hospital."
People still can protect themselves from the flu — or at least lessen the severity of their symptoms if they are infected — by getting a vaccine, Cronin said.
Especially for those people most susceptible to severe flu symptoms — elderly people, children and pregnant people — "it's still better being vaccinated than not vaccinated," she said. "The people that are most seriously affected by flu and the flu deaths, and the ones that have been critically ill, are the ones who have not been vaccinated."
The Associated Press reported this week that the flu is widespread in every state except Hawaii, with 39 states reporting high traffic to doctors last week.
By the end of the season, about 34 million Americans likely will get sick from the flu, the Centers for Disease Control and Prevention said Friday, though nationwide deaths from the flu among the elderly so far haven't been as high as in some other recent flu seasons.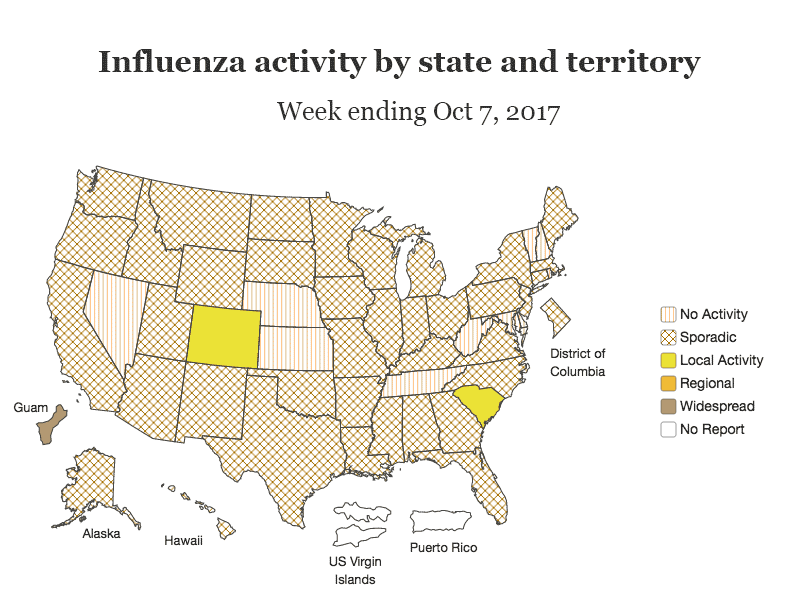 Data source: Centers for Disease Control and Prevention
This year's flu shot targets the strains that are making Americans sick — mostly the H3N2 flu virus. In the U.S., annual flu shots are recommended for everyone age 6 months or older. Last season, about 47 percent of Americans got vaccinated, according to CDC figures.
In a statement, state DPH Commissioner Raul Pino encouraged those who have not yet received a flu shot to get one soon.
The DPH and local health districts are offering vaccine clinics at 13 locations across the state Saturday, including one at Ledge Light Health District, 216 Broad St., New London, from 11 a.m. to 1 p.m., and one at the CT River Area Health District Office, 455 Boston Post Road, Old Saybrook, from 10 a.m. to 1 p.m. The vaccine will be free for children age 6 months to 18 years old, as well as adults with insurance. For all others, the vaccines will be offered for a low administrative fee. For more information, visit bit.ly/CTfluvax.
Recognize the symptoms
According to the Centers for Disease Control and Prevention, the following are common symptoms of the flu: fever, muscle aches, sore throat, dry coughing, runny nose, headache, burning in the chest, eye pain and sensitivity to light. Those who contract the flu also may experience chills and sometimes diarrhea and vomiting.
The following symptoms are warning signs in children: fast breathing or trouble breathing, bluish skin, not drinking enough fluids, not waking up or not interacting, irritability so extreme that the child does not want to be held, symptoms improve but return with a fever and worse cough, fever accompanied by a rash.
Additionally, the CDC advises parents to get medical help right away for any infant who: is unable to eat, has trouble breathing, has no tears when crying, has fewer wet diapers than normal.
The CDC additionally advises adults with the following symptoms to seek medical help: difficulty breathing, pain or pressure in the chest or abdomen, sudden dizziness, confusion, severe or persistent vomiting, symptoms improve but return with fever and worse cough.
To prevent the spread of flu, the CDC encourages those who exhibit symptoms to: limit contact with other people and stay home for at least 24 hours after your fever is gone except to seek medical care; cover your nose and mouth with a tissue when you cough or sneeze, then immediately throw the tissue away; wash hands often with soap and water or use an alcohol-based hand rub; avoid touching your eyes, nose and mouth; clean and disinfect surfaces and objects that may have come in contact with germs.