Enrollment down at Conn, but officials say that may not be so bad
New London — Colleges across the country are struggling to hit their enrollment goals, and Connecticut College is no exception.
This year, the college brought on 447 first-year students and 21 transfer students. Last year, those numbers were 472 and 20, respectively.
With tuition alone at just more than $52,500 per student, the 24-student drop is significant.
The response from Director of Public Relations Deborah MacDonnell, however, suggests the college is taking it in stride.
"We always plan for potential fluctuations in the number of enrolled students through prudent fiscal management," she wrote in a Thursday email.
Besides, she said, a drop in the number of overall students may not be so bad.
Before the year 2000, Conn was a college of 1,600 to 1,700 students. Over the past 15 years, it grew, reaching a peak of about 1,920 students.
This year, 1,865 undergraduates are enrolled at Conn, according to its website.
"With our new curriculum, Connections, and the highly personalized education we offer through it, we believe the historic number allows us to provide the best education and overall student experience possible," she wrote.
According to the recently published 2017 Survey of College and University Admissions Directors, only 34 percent of colleges had met their enrollment targets by May 1 this year. According to Inside Higher Ed, which releases the study in conjunction with Gallup, that compares with 37 percent a year ago and 42 percent in 2015.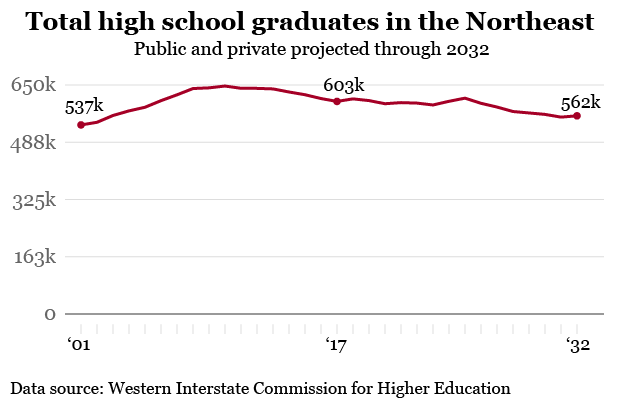 A declining number of high school graduates — especially in the northeast — suggests things may get zworse before they get better.
"Certainly what we've seen over the last few years is a decline in the number of 18-year-olds," said Paul Hassen, director of communications and marketing for the National Association of Independent Colleges and Universities.
The decrease, he said, is most pronounced in the Northeast and Midwest.
"It reflects the changes that have gone on in general over the last 20 years," he said. "People have moved out of the Northeast to the Southwest and the South. Now we're seeing their children, now college aged, going to college locally."
The trend is hitting the private college sector hard because many private colleges are in the northeast, Hassen said.
To stand out, he said, colleges should understand and clearly project what their mission is. They should evaluate the programs they're offering, too, to make sure the programs are attracting students and fulfilling marketplace demands. 
At Conn, officials are championing their new curriculum. Connections ditches arbitrary checklists of required courses and allows students to choose their own adventure — within reason, of course.
For the first time, the college this academic year also offered merit aid in the form of four new scholarships.
According to Conn's website, the scholarships are for students "who have demonstrated both the highest levels of achievement during high school as well as the promise of continued achievement at Conn."
For decades, many selective colleges have offered only need-based aid rather than offering need-based and merit funds. They do so for a variety of reasons, including that they have no trouble attracting top students and would rather their dollars go to students who otherwise might not be able to attend college at all.
According to MacDonnell, Conn decided to break with tradition this year as part of its "ongoing efforts to work with middle-income families to make college more affordable."
In her email, MacDonnell noted that this year's academic class boasts strong socioeconomic and geographic diversity, with students from 27 states, Puerto Rico and 20 countries.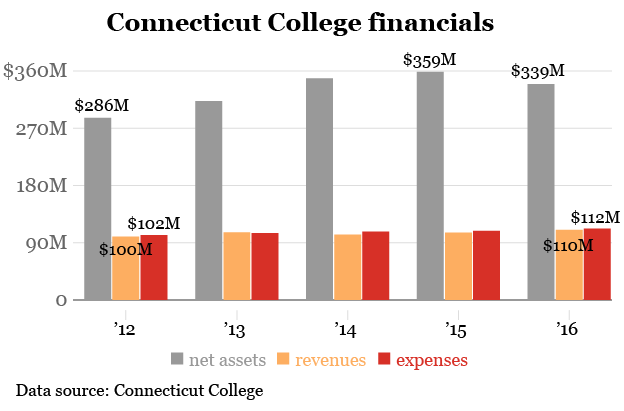 Despite the continuing drop in college-aged young adults in much of the country, Hassen thinks private colleges will rebound — especially the small ones. Without much wiggle room to begin with, the colleges generally are careful about how much they spend in relation to the revenue they have coming in.
Indeed, recent financial statements for Conn show it typically brings in almost the same amount it spends. Last year, for example, the college brought in $110 million and spent $112 million.
"These colleges are good at knowing what their business parameters are," Hassen said, "and they usually react very well to a couple down years. They go back and do the hard work in terms of looking at their mission and offerings and usually have a bounce-back after a couple years."