Most local school districts see improved performance rates
Most school districts in southeastern Connecticut saw an increase in performance rates in the 2017-18 school year, whereas most saw a drop the year before.
One thing that hasn't changed much is the ranking of top districts in the region: Lyme-Old Lyme Public Schools, also known as Regional School District 18, still is considered the best in the region, and East Lyme is the second-best. Rounding out the top five for the past two years are Stonington, Montville and North Stonington, though their order changed.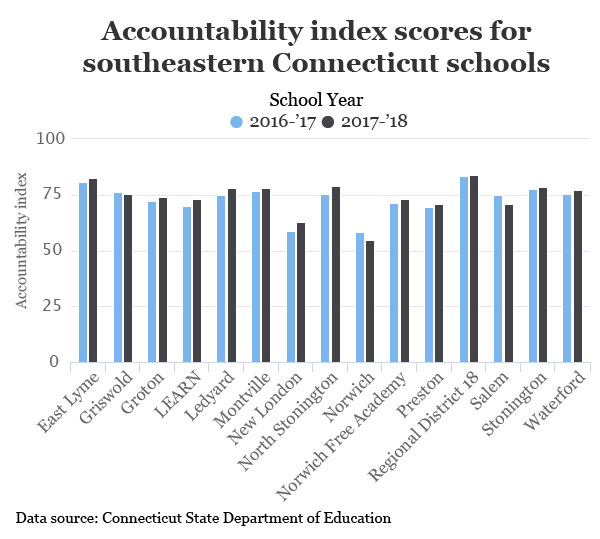 This is according to the 2017-18 Next Generation Accountability System Results, which the Connecticut State Department of Education released Friday morning.
Next Generation Accountability is a 12-factor system that most heavily weighs academic growth in English language arts (ELA), math, the four-year graduation rate, six-year graduation rate for high-needs students, and college enrollment after graduating.
The other factors are state assessment performance in ELA and math, assessment participation rate, chronic absenteeism, the share of students taking college and career readiness coursework, the share of students passing college and career readiness exams, the percent of students on track for high school graduation, physical fitness and arts access.
Scores on the factors are added up to an index out of 100 possible points, and the state average rose from 73.2 in 2016-17 to 74.9 last year.
"The 2017-18 accountability results show progress is being made on several performance and growth indicators and it is especially encouraging to see increases in performance and growth for our most vulnerable student groups," Education Commissioner Dianna R. Wentzell said in a news release.
While ELA and math performance remained flat for students overall, each increased by about 2 percent for high-needs students. In addition, the score for academic growth — which measures the progress of specific students over time — increased 5.8 percent in ELA and 1.7 percent in math for high-needs students.
Another area that saw notable statewide growth, building upon growth from last year, was participation in Advanced Placement or International Baccalaureate classes, career and technical education, and workplace experiences.
A dim spot was that the statewide chronic absenteeism rate increased from 9.9 to 10.7 percent.
The Next Generation Accountability System is the basis for determining Alliance Districts, the lowest-performing districts in the state. New London, Norwich and Groton are among the state's 33 Alliance Districts, which must submit plans to the state for improvement. The designation means state aid to the district cannot be cut from its level the previous year.
Chronic absenteeism was one of the top factors landing Groton on the list in 2017, and the rate in Groton increased from 11.3 percent in 2016-17 to 11.6 percent last school year. Assistant Superintendent Susan Austin noted that the culture and climate committee developed an intervention plan last year, and the district will use grant money to hire an attendance-focused social worker.
While Groton's overall index was 0.9 below the state average, it performed better than the state in ELA and math — both overall and specifically for high-needs students.
Especially in a military community like Groton, Austin feels it is unfair that students entering the military after high school count against the postsecondary entrance score. Superintendent Michael Graner said he was "perplexed" by the district's low score on the share of students taking college and career readiness courses, and said there may be a course identification problem to address.
How did other local schools and districts perform?
Per the 12-factor system, the top school in the state is Center School in Litchfield School District.
Locally, Deans Mill School in Stonington and Marine Science Magnet High School in Groton came in at sixth and seventh best; their respective scores were 95.11 and 94.99. Marine Science Magnet is not part of the Groton Public Schools district but part of the LEARN system, which overall scored lower than the state average at 73.3.
Marine Science Magnet bucked the statewide trend on chronic absenteeism, decreasing its rate from 11.5 to 7.1 percent. Principal Nicholas Spera attributed this to "providing that safe atmosphere so kids want to come to school" and to "constant communication" with parents.
The school, which has 271 students, also made large strides in ELA and math performance.
Marine Science Magnet and Deans Mill were named Schools of Distinction, as were Flanders School, Niantic Center School and Lillie B. Haynes School in East Lyme; Mary Morrisson Elementary and Northeast Academy Elementary in Groton; Lyme Consolidated School and Mile Creek School in Regional School District 18; Mohegan School and Oakdale School in Montville; and Ledyard Center School.
The commendation means that each school scored in the top 10 percent in its grade level either overall, for academic growth, or for year-over-year improvement. There were 160 schools named statewide, including 43 in Alliance Districts.
On the other hand, the state identified Bennie Dover Jackson Middle School in New London as a "Turnaround School," meaning one with low overall performance, and New London High School as a "Focus School," meaning there is "consistently lagging academic achievement, growth, or graduation rates for the high needs group." Both designations were based on three-year averages, and both mean the schools will receive additional support from the state.
Veterans Memorial Elementary School in Norwich previously was a Turnaround School but has been removed from the list.
The state identified 36 Turnaround Schools overall, 34 of which are in Alliance Districts like New London, and 20 Focus Schools, 14 of which are in Alliance Districts.
Still, the New London school district overall saw an increase in its index from 58.65 to 62.8. The only local school districts to see drops in overall performance from 2016-17 to 2017-18 were Norwich Public Schools — this does not include Norwich Free Academy, which improved — and Salem Public Schools.
Norwich Assistant Superintendent Thomas Baird said the index "doesn't really work for a pre-K to 8 district that doesn't operate its own high school, especially one as large as us." His issue is that high school students are weighted more heavily but the only high school students Norwich Public Schools has are those who "have some pretty significant educational needs and are in outplacement settings" and ones who were expelled.
In Norwich, the two middle schools saw scores lower than the district average of 54.7, but the remaining seven elementary schools ranged from 57 to 76.2. The district average last year was 58.1.
Stories that may interest you
The New York City-based property manager said he hopes to start repairs this week and reopen the two six-unit buildings by mid-June.
---
Police have charged a city resident with intentionally crashing into a car driven by his ex-girlfriend on the evening of April 28.
---
A 10-day bridge project on Interstate 395 north is expected to cause heavy delays in town starting next week, police said.
---
Lyme-Old Lyme High School Quarter 3 Honor Roll
TRENDING
---
---