Developers of contentious Old Lyme housing project pull application
Old Lyme — The developers who proposed a contested 37-unit housing development on Neck Road near Interstate 95 said Wednesday they are withdrawing their application with the town's zoning commission in an effort to relocate the project elsewhere in town and to avoid a potentially costly court battle.
In a letter addressed to Zoning Commission Chairwoman Jane Cable, the project's developers HOPE Partnership and the Women's Institute for Housing and Economic Development — both of which specialize in affordable housing developments across the region — wrote Wednesday they were withdrawing an application due to the "intense" local opposition experienced while pursuing the project.
"Rather than continue to fight the battle in a courtroom, which will increase the costs so the housing is no longer affordable, HOPE is appealing to the many residents who expressed concerns over location to assist in finding a property that would be suitable," HOPE Board President Tony Lyons wrote.
Originally brought forward to the town in April 2018, the project — which outlined building 37 apartment units across 11 townhomes, eight of which would be market rate, while the remainder would be affordable — was approved by the Inland Wetlands Commission early in the process and later by the town's zoning commission in October. The development would have been located next to the northbound off-ramp at Exit 70.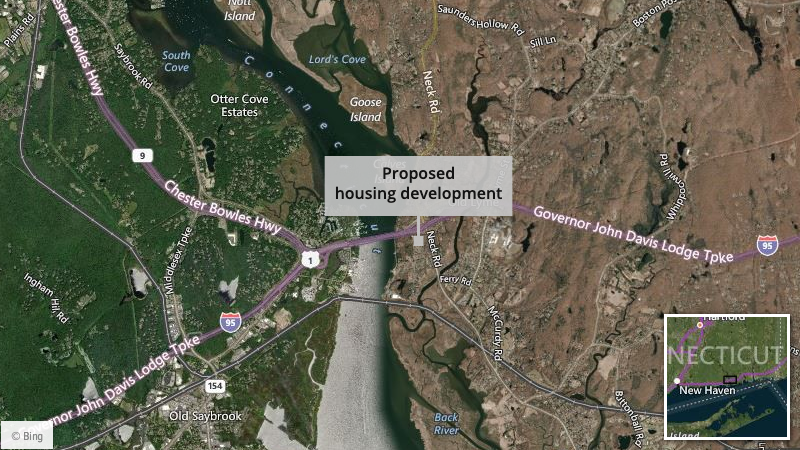 Location of proposed 37-unit housing development on Neck Road.
The then five-person Zoning Commission voted 3-2 on the decision, stipulating that the project's two developers must obtain many regional, state and federal permits and needed to meet 17 conditions related to safety, traffic and health, among other concerns, before moving forward with the proposal.
The commission outlined that the development was subject to denial if any of the permits or approvals were not met. A final review of the proposal would have been conducted before the developers broke ground, Cable had said at the time.
"Throughout the application and approval process, the project has been met with intense opposition," Lyons wrote. "While there are many in town who support the project, it has become increasingly apparent a very vocal fraction of Old Lyme residents are not in support and will take whatever measures necessary to stop the project, including the promotion and spreading misinformation using social media and other means to attack the project and its sponsors."
"We are appealing to town leaders and residents to follow through on the assertion we have heard over and over; 'Old Lyme supports affordable housing, just not in that location ...'" Lyons wrote. "We ask the Zoning Commission, Board of Selectmen, and other town leaders to proactively identify site(s) that would be more acceptable for family housing. ... We would like to believe the support for the 'idea' of affordable housing in Old Lyme was sincere. We are now asking those who expressed that sentiment to join us and be part of the solution."
In a phone interview Wednesday, Lyons said he could not detail further whether there were other reasons dictating the decision. He said, "We don't want to go into any more detail other than what we said in the letter. What the letter says is really what's going on."
"It's really mostly because of the money we put out there, it got way too expensive. And the lack of support from the town," Lyons said. "But we are still committed to doing something comparable in Old Lyme."
When asked whether a lack of project funding, potential issues with its partner, the Women's Institute, or a soon-to-expire purchase agreement for the proposed property on Neck Road dictated the decision, Lyons declined to respond, stating, "We didn't really ask (to extend the purchase agreement of the property), to tell you the truth."
Lyons also said he could not state where in town HOPE was potentially interested in acquiring other sites for a comparable project but said, "There were a couple ideas floating around but nothing we can talk publicly about."
Besides completing a 16-unit affordable housing development in Old Saybrook known as Ferry Crossing in 2012, Lyons said HOPE Partnership is pursuing building another 17-unit affordable-housing development in Essex, known as Spencer's Corner. He said the organization likely will close on that property and begin construction by the end of this year.
The Women's Institute, which also is pursuing a $6 million renovation of the Reid & Hughes building on Main Street in Norwich, has spent the past six months attempting to correct persistent hot water and air conditioning deficiencies at a new affordable housing complex it built in Killingly. The facility, a new 32-unit, $10.5 million state-financed apartment building on the site of the former Powdrell & Alexander Mill in Danielson, opened in February.
Several attempts to reach the Women's Institute by phone and email were not immediately answered by Wednesday afternoon.
Cable also was not immediately available to comment Wednesday.
The project, formally known as River Oaks Commons I and II, was the subject of much controversy among residents since it was first announced in April 2018, with residents turning out by the hundreds to voice their opinions both for and against the project during three public hearings taking place over summer 2018.
At those meetings, speakers expressed opposition to the location of the proposed development and raised concerns ranging from traffic safety and accidents to the number of schoolchildren the development would bring. Supporters argued the development would provide needed affordable housing for first responders, teachers and other working individuals and for local families looking to remain in town without having to purchase a home.
In the time since, the project also has been more recently the subject of an ongoing court battle after three abutting neighbors living near the proposed development appealed the zoning commission's decision to approve the project last October.
The three neighbors, Dominic Papa, William Francis and Patricia Fitzgerald, filed their appeal in November through New London Superior Court, with the case transferred to a judge at Hartford Superior Court in December.
Lyons said Wednesday he expects the lawsuit to be withdrawn since the development is no longer moving forward.
The Neck Road property is owned by town resident Jim Graybill of Graybill Properties LLC, according to town records. Graybill had purchased the 12-acre property while it was under foreclosure in 2015 for $455,500.
HOPE's former executive director Lauren Ashe had said to The Day last year that HOPE Partnership and Graybill had signed a purchase agreement reserving HOPE Partnership the right to purchase two of Graybill's four land parcels at the 16 Neck Road property. She did not disclose the amount of time the agreement extended through or the agreed sale price.
First Selectwoman Bonnie Reemsnyder said Wednesday that she believed the agreement had extended until "approximately September," but said she was also not sure whether the timeline of the agreement spurred HOPE's decision to withdraw the application. She added that she knew Tuesday about HOPE's decision but had not yet received the letter sent to Cable.
"I hope that we will be able to work with HOPE in the future. They are a good organization and they've done some great things in surrounding communities," Reemsnyder said. "I hope that with us putting together an Affordable Housing Exploratory Committee we will be able to help identify appropriate locations for affordable housing in town."
The Board of Selectmen first discussed forming the committee last December, in light of the project's controversy. Reemsnyder had said plans for such a committee have been in the town's Plan of Conservation and Development for several years. On Wednesday, she added that the committee had not yet been formed.
When discussing the committee's formation last year, the Board of Selectmen said that among other reasons, it hoped the committee would help meet state mandates requiring towns to have 10 percent of their housing stock considered affordable. The state Department of Housing, in 2017, stated that only 1.57 percent of Old Lyme's housing stock was considered affordable.
Reemsnyder, who also sits as a members of HOPE Partnership's Advisory Council, said she was not clear whether there were specific properties in town HOPE was looking to transfer the project to and said that she was not aware of any potential funding issues the project may have been experiencing.
Stories that may interest you
TRENDING
---
---