One dead, one injured in New London stabbing
New London — Police are investigating two stabbings, one of them fatal, at 49 Blackhall St. on Tuesday night.
Police received a call about 7:20 p.m. for what one officer called a "serious incident" at the apartment building, according to acting police Chief Peter Reichard. Officers arrived on scene to find two men suffering from what appeared to be stab wounds on the second floor outside landing.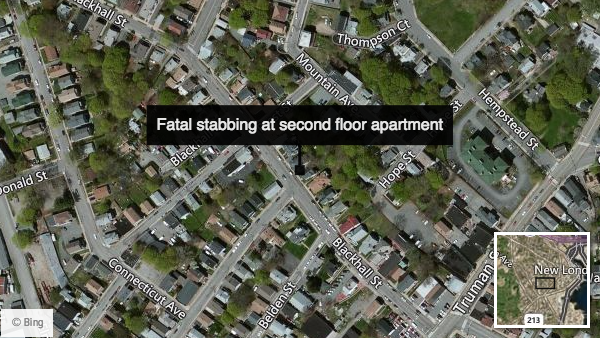 A post on Twitter by the city fire department said two people with stab wounds had been transported from Blackhall Street. They were taken to Lawrence + Memorial Hospital for treatment. One of them, 33-year-old Raheeim General, was pronounced dead there at 8:46 p.m., Reichard said. General has a last known address of 36 Truman St., Apt. D.
The other stab victim was identified by police as Metese Hinds, 46, with a last known address of 325 Huntington St. Police said Hinds sustained a non-life threatening injury. Police charged Hinds, while he was at the hospital, on an outstanding warrant for violation of a protective order. He remains in custody in lieu of a $10,000 bond.   
Officers were entering the home, and four police cruisers could be seen on the street. Two bystanders, who declined to give their names but said they are residents in the area, said they had heard screaming and shouting for someone to call 911.
An inspector from the State Attorney's Office was on scene, and police were obtaining a warrant to search the building. Reichard said police expect to be investigating the scene for the rest of the night.
No further information was immediately available and the investigation is ongoing.
Anyone with information concerning the incident is asked to contact New London police detectives at 860-447-1481 or send anonymous information to New London Tips 411 by texting NLPDTip and the information to Tip411 (847411).
Stories that may interest you