Bucking national trend, region sees downturn in violent crime
Across the country, violent crime was up in 2016 while property crime was slightly down, according to data the Federal Bureau of Investigation released Monday.
For the most part, the opposite was true for independent police departments patrolling towns in southeastern Connecticut. From Waterford to Stonington, forces reported less violent crime in 2016 than in the previous year, with some logging an uptick in property crime.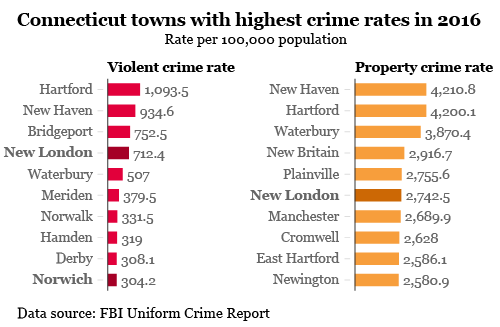 The exception is New London, where violent and property crime rates jumped by 26.3 and 17 percent, respectively. There were 712.4 violent crimes per 100,000 population in 2016, and 2,742.5 property crimes per 100,000.
Acting New London police Chief Peter Reichard couldn't be reached to comment, but in the past he has attributed the city's crime rates to its characteristics: New London has less than 6 square miles of land, yet boasts land and water transportation hubs, a hospital, an adult probation office, a regional courthouse and a homeless hospitality center.
Reichard also has said the department's efforts to boost its numbers in terms of officers could play a role.
The increase in officers "means there are more self-initiated steps by officers out on the street to stop crime," he said in August last year.
The data show assaults and larcenies were major factors in the city's increased crime rates. While 2015 saw 106 assaults, there were 151 in 2016. Similarly, there were 431 larcenies across the city in 2015, but 532 the last year.
Still, the city saw fewer assaults and larcenies in 2016 than it did in 2010.
Given police departments' regular warnings about car break-ins this summer and last, it isn't surprising property crime rose.
Groton City, Groton Town, New London and Waterford police all saw jumps in the category, which includes burglaries, larcenies, vehicle thefts and arson.
In Groton City, burglaries increased more than 200 percent, from 9 in 2015 to 29 in 2016.
And in Waterford and Groton Town, vehicle thefts leaped from 14 to 20, a 42.9 percent increase.
"I hate to tie this in to the opioid epidemic, but some of that has an impact," Groton Town police Chief Louis J. Fusaro Jr. said.
His department has been heavily involved in combating the opioid crisis locally. It quickly partnered with the Groton-based organization Community Speaks Out and was instrumental in forming the Regional Community Enhancement Task Force.
Still, Fusaro knows property crimes, especially larcenies and burglaries, are not unfamiliar to those who are struggling with addiction.
Property crimes aside, Fusaro found solace in that the town saw fewer violent crimes this year. It's an area his department has been targeting, he said, and he's glad to see officers' efforts appear to be paying off.
Going forward, he said, he hopes the community will be more vigilant in stopping property crimes. Budget cuts mean fewer cruisers are on patrol, he said, and fewer cruisers on patrol means fewer would-be thieves are being deterred.
His advice? Increase lighting in areas of your property that are dark. Befriend your neighbors, so they can watch out for your house when you leave. Invest in new technology that allows you to put lights and even your garage door on a timer. And always lock your doors — even if you're leaving your house or your car for just a few minutes.
"It's just about limiting the opportunities," Fusaro said. "Crime prevention is everybody's job."
He noted, too, that a decrease in overall crime doesn't mean a police department should scale back its preventative work.
"The minute we stop doing that stuff is the minute we see all of the crimes across the board increase," Fusaro said.