Connecticut on pace to surpass 1,000 fatal overdoses
Connecticut this year is on pace to surpass 1,000 overdose deaths for the first time, largely because of a continued boom in deaths involving fentanyl, according to data released Monday by the state Office of the Chief Medical Examiner.
According to the data, 539 people died of overdoses in Connecticut from January through June of this year. If that rate holds steady, 1,078 would die by year's end — an 18 percent increase over last year.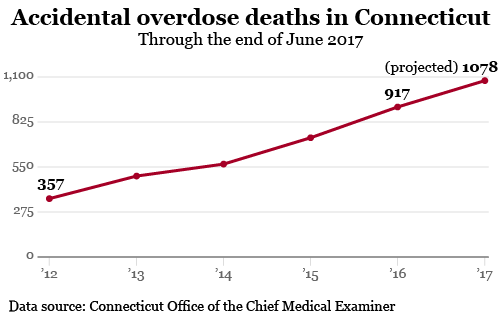 Of the people who died, 644 had at least fentanyl in their systems, making fentanyl the most common opioid found in fatal overdoses. Fentanyl, a synthetic opiate, is estimated to be 50 times stronger than heroin.
For perspective, only 14 people died a fentanyl-related death in 2012.
The numbers suggest heroin-related fatal overdoses are leveling off. There were 508 heroin-related deaths last year; this year that number is projected to be 514.
The examiners found both heroin and fentanyl in 354 cases.
Notably, the number of deaths involving cocaine continues to rise. This year could bring 340 such deaths compared to last year's 274 — a 24 percent increase. Chief Medical Examiner Dr. James Gill has said cocaine-related deaths may be on the rise because fentanyl increasingly is making its way into cocaine — even when the people buying the drug don't want anything to do with fentanyl.
In The Day's coverage region, "injury city" data, or data that indicate where people overdosed as opposed to where they died, show Norwich by far spawned the most fatal overdoses in the first half of 2017.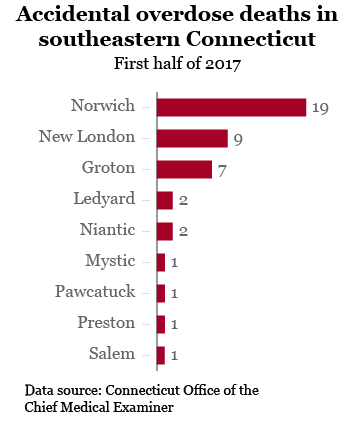 Of the 43 fatal overdoses that originated locally, 19, or 44 percent, of the injuries occurred in Norwich. Rounding out the top three municipalities for fatal overdose injuries were New London, with nine, and Groton, with seven.
Norwich has launched several initiatives aimed at tackling the issue, including campaigns focused on youth and a task force with members from the political, medical and law enforcement sectors.