Gold Star Bridge sidewalk to be closed for 10 weeks for repairs
The state Department of Transportation said it plans to close the sidewalk on the Gold Star Memorial Bridge between New London and Groton for about 10 weeks, starting Aug. 13, for a significant repair project.
"The extent of the repairs necessary for the sidewalk are larger in scope than originally anticipated," DOT spokesman Kevin Nursick said. DOT originally had anticipated keeping the sidewalk open for most of the rehabilitation project to the southbound Gold Star bridge.
The repair project calls for replacing entire structures of concrete on the walkway, as well as expansion joints, and the work will entail using heavy machinery, Nursick said. It wouldn't be feasible or safe for pedestrians to access the sidewalk, which is on average no more than 5 feet wide, during construction.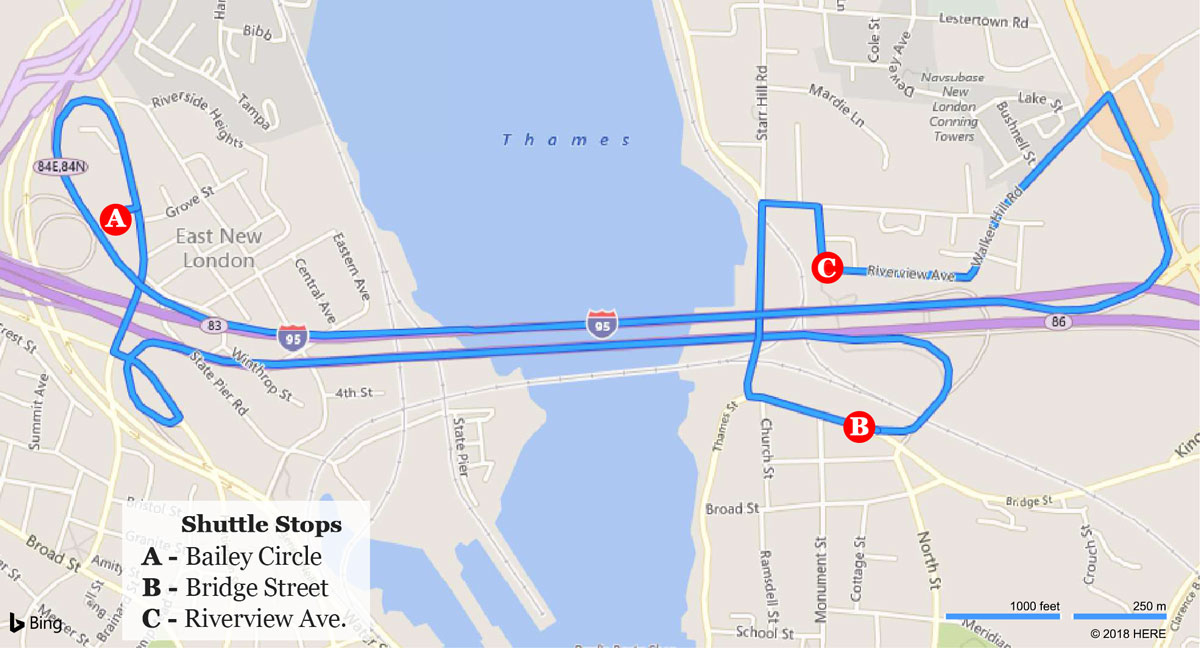 "It's a substantial rehabilitation of that sidewalk," he said. To get the work done as quickly as possible, DOT will bring in multiple contractor crews. 
Shuttle service
Nursick said DOT is cognizant that bicyclists and pedestrians rely on the walkway to get across the Thames River, with no other crossing immediately nearby, and will partner with Southeast Area Transit to provide shuttle service across the bridge. 
Nursick said DOT knew from the start it would need to have a mitigation plan, one that would be reliable, efficient and convenient for the public, to fill the void created by closing the sidewalk for 10 weeks.
"Severing that artery would bring a hardship to local populations on either side of the bridge," he said.
DOT will pay SEAT about $71,000 to run a shuttle bus from 6 a.m. to 6 p.m. daily for the duration of the sidewalk project, Nursick said. The shuttle bus will run every half-hour, will be free for riders and will stop at the sidewalk entrance in New London and the two sidewalk entrances in Groton, according to a DOT news release.
Nursick added that if people provide feedback that other hours would better serve the public, DOT would be open to changes. 
The shuttle bus will be able to accommodate some bicycles. SEAT General Manager Michael Carroll said SEAT buses are equipped with a two-position bike rack. The interior of the buses potentially could accommodate a small number of bikes, if there is room and not too many riders, but the decision would be made on a case-by-case basis depending on the load.
Peter Farnan, general manager and third-generation operator at Mr. G's Restaurant in Hodges Square, which is located near the bridge's sidewalk entrance in New London, said he sees people at all times of the day coming by to use the pathway. His own grandmother, "the original Mrs. G," walked the pathway every day for exercise.
With a shuttle bus running every half-hour from 6 a.m. to 6 p.m., he didn't think the sidewalk closure really would impact business. 
"On days like today, I'm sure people would appreciate a nice air-conditioned bus," he said Thursday.
Robert Lee, owner of Lee's Oriental Market in Hodges Square, said he sees more than 30 to 40 people, many of them bicyclists and Electric Boat employees or younger people working in New London, coming through Hodges Square every day to and from the pathway. Lee — who would love to one day see a wider pathway, which he said people would use more, thereby cutting down on traffic on the bridge — said he walks across the pathway once or twice a week for exercise and to see the scenery and improvements on both sides of the river.
"For me, it wouldn't hinder me so much, but I think the people who rely on it will be affected," he said of the 10-week closure. "They'll be bummed out."
He said the shuttle bus will be useful for people who walk during the day but not for people who use the pathway earlier in the morning and later at night, or for people who want to bike, for example, to exercise outdoors.
The sidewalk repairs are part of an overall rehabilitation project for the southbound Gold Star Bridge, under Mohawk Northeast Inc. of Plantsville, that began in April 2017.
Nursick also noted that during the sidewalk repair project, DOT also plans to slightly move out the sidewalk railing at "pinch points," those areas in which bumpouts from the foundations of sign supports are protruding into the sidewalk and narrowing the walkway. This will restore the width of the sidewalk in those areas, he said.
To prevent people from accessing the walkway during construction, DOT will install signs, fencing and barricades at the three sidewalk entrances, according to the DOT news release.
The current lane configuration on the southbound bridge will remain in place during the sidewalk repairs, according to the release. Currently, four lanes are open to traffic, though DOT has said it may need to temporarily close additional lanes during off-peak hours as part of the ongoing bridge rehabilitation project.
The Southeastern Connecticut Council of Governments, which is responsible for regional transportation planning as the region's Metropolitan Organization, and DOT were in contact during the planning. Kate Rattan, council's planner III/program manager, said DOT reached out to her after determining that the extent of the deterioration on the sidewalk was greater than anticipated and would require a closure. She said it was important to make sure people are able to cross the bridge, as people utilize the sidewalk not only for recreation but also to get to work or for errands.
James S. Butler, the council's executive director, said that, as planners, he and Rattan, who are closely following the project, felt it was important to assist DOT in providing a solution. Thanks to Rattan, the COG staff urged DOT to make sure it provided advance notice to people and requested signage be installed on either side of the bridge, he said. He also commended Carroll at SEAT for stepping up.
"I'm delighted that the Department of Transportation and SEAT have been able to reach an agreement that will provide this alternative access across the bridge to mitigate the pedestrian path closure during this 10-week period," Butler said.
Other stories that may interest you
Eleonora Ferragatta always loved art and fashion. After over 20 years as a professional visual artist, she found a way to combine her passions.
---
Owner of abutting shopping plaza concerned about casino traffic's impact on business, lawyer says.
---
More than $5,000 has been raised thus far to assist a Haitian woman in her medical recovery and her family.
---
It would be dramatically cheaper for the city to relocate its offices to a Howard Street office complex than moving them to Eugene O'Neill Drive, according to competing bids presented to the city
TRENDING
---
---