Officials ponder Stonington's third fatal wrong-way crash in 10 years
Of the 10 fatal wrong-way crashes Connecticut has seen on Interstate 95 since 2010, three have been in Stonington, leaving officials wondering why and whether anything can be done.
Stonington didn't stand out in data from the University of Connecticut's crash data repository — until two double-fatal crashes happened within four months.
The first was in December, when Groton resident Jose Gonzalez, driving north in the southbound lanes, crashed into a car about a mile east of Exit 91. The 12:45 a.m. collision killed Gonzalez's passenger and a passenger in the other car.
Then, on March 2, wrong-way driver Larry A. Stallings Jr., 32, of Bristol crashed into a truck driven by Melvin Wells, 55, of Hamden about 6:15 p.m. Both men died in the crash, which also happened in the southbound lanes, just beyond Exit 91. That crash, which involved four vehicles and 10 people, also seriously injured a passenger in the truck.
State police said Thursday that each crash remains under investigation. They couldn't say how many people, if any, called 911 to report a wrong-way driver in each case. They also hadn't pinpointed which ramp the wrong-way drivers used to access the highway, or whether either driver was intoxicated or having a medical issue.
As they await answers, some people, including Old Mystic fire Chief Kenneth Richards, are wondering if the ramps at exits 90 and 91 played a role. 
Wrong-way crashes on I-95 in southeastern Connecticut - 2010-19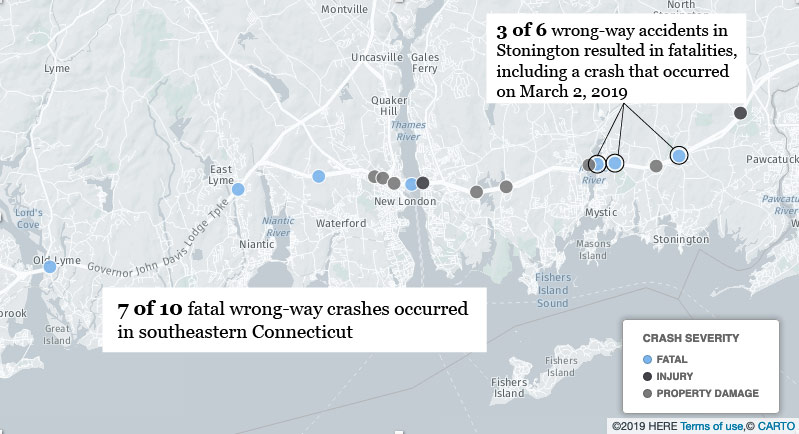 Data source: Connecticut Crash Data Repository
North of I-95, the entrances to and exits from the interstate, while clearly marked, are right next to each other off state Route 27 (Exit 90) and Taugwonk Road (Exit 91).
South of I-95, drivers who don't realize they need to turn left to stay on Pequot Trail may travel straight up the I-95 north off-ramp at Exit 91, which also is littered with "wrong way" signs.
Kevin Nursick, spokesman for the state Department of Transportation, said DOT understands the concern and routinely reviews data. About a year ago, he said, DOT wrapped up a more than $5 million project to add white pavement arrows and more visible "do not enter" and "wrong way" signs to 700 ramps in Connecticut.
Including the "one-way" signs posted at the end of off-ramps, each ramp has at least six cautionary signs, Nursick said. He said DOT could add expensive, motion-sensing technology that would trigger flashing "wrong way" signs for wrong-way drivers if it could prove a particular ramp needs it.
But, largely because police often can't determine where wrong-way drivers accessed the highway, no ramp has proven to be a hotspot.
"If we had an infrastructure tool we could apply, believe me, we would be doing it," Nursick said.
'That could have been one of us'
Jill Karwoski, a Groton resident, was driving south on I-95 just after 6 p.m. March 2 when she saw something that looked like smoke and noticed debris on the highway.
The Providence College softball coach, coming home after a trip to Baltimore was canceled, activated her flashers and pulled behind a car that appeared to have been involved in a crash.
What followed is chaotic in Karwoski's mind.
She asked a man, sitting on the side of the highway holding his head, if he was OK. She called 911. She found a phone that she would later give to police. She saw bystanders throwing snow on a smoking truck that had been smashed by a wrong-way driver. She ran toward a car, where a driver and passenger were trapped. She asked the driver of each passing vehicle if he or she was a doctor. She assured her assistant coach, who arrived at the scene not long after her, that she wasn't involved in the wreck.
She watched as two Life Star helicopters landed on either side of the crash.
"I'm surprised only two people didn't make it," said Karwoski, who said both occupants trapped in the car weren't responding when she and others banged on the windows.
"I couldn't not stop," she said. "But it makes you think: What if we didn't stop at that rest stop? Did I need to be there to call 911? I don't know, but ... that could have been one of us."
Stonington responds
Until December, Stonington hadn't seen a fatal wrong-way crash on I-95 since March 2010.
In that case, New York resident Lance Lewis, 36, drove up the off-ramp opposite Pequot Trail and continued south in the northbound lanes until he smashed into a car near Exit 90, killing himself and the other driver.
A toxicology report found no drugs or alcohol in Lewis' system, and witnesses said he drove the three-mile stretch at highway speed without swerving.
Investigators never determined if Lewis drove up the off-ramp by accident or on purpose.
Interviewed this week, Stonington First Selectman Rob Simmons didn't blame a particular ramp for the three fatal, wrong-way interstate crashes his town has seen.
"It's very sad when this happens, of course," he said. "But understand that between Stonington and Mystic, the area attracts literally millions of people a year."
Simmons said he often uses the Exit 91 on- and off-ramps off Taugwonk Road and hasn't had an issue. He noted that Connecticut "spent millions" to reconfigure and add new lighting to Exit 90 by Mystic Aquarium.
"It's not as if the state of Connecticut and the towns haven't done their best to address these crashes," Simmons said. "But when millions of people are coming in and out on a regular basis, accidents happen."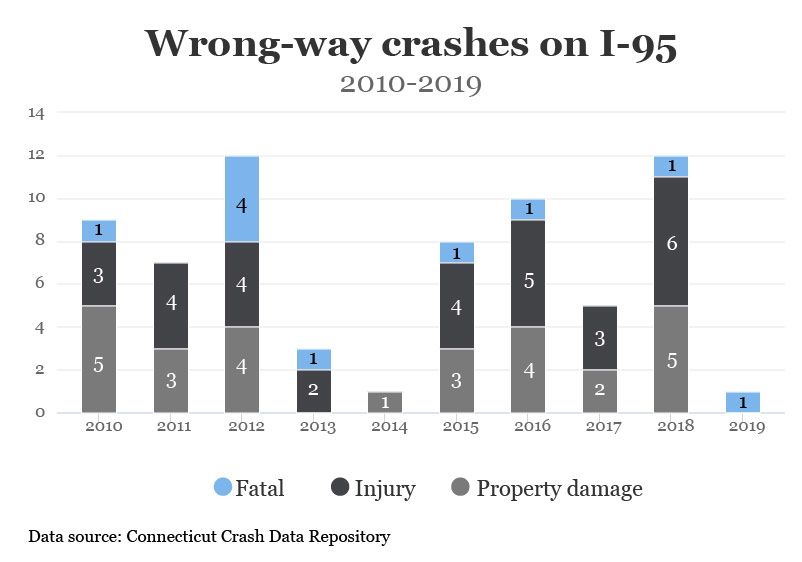 Richards, the fire chief, said the ramps likely are part of the problem. He said the white arrows on the ramps and the "wrong way" signs on either side don't seem to be enough — in fact he has seen people driving on the correct ramp stop because the "wrong way" sign to their left gave them pause.
"Instead of having white arrows down the ramp, I think they should be more prominent like the back of our fire trucks," he said. "We have a chevron, lime green and red. On the highway it should be big, wide and reflective like that, so it's pretty hard to miss."
Richards said the toll serious crashes takes on first responders shouldn't be ignored.
"Last Saturday, we had some newer volunteers on scene," he said, referring to the March 2 crash. "It was the first major incident they had seen, and I can assure you, that sticks with you."
Richards, who began his career in 1976, said rather than being told to suck it up, firefighters now have access to stress debriefing teams and other services. His department brought in such a team two days after the double-fatal wrong-way crash.
"One of the things we talk about all the time is how the police departments and fire departments in the United States are losing more members annually from suicide than from line-of-duty deaths," Richards said. "That's unacceptable, and we have to do a better job."
An alarming statistic
No one interviewed for this story had a good explanation for an alarming statistic in UConn's crash data: Of the 10 fatal wrong-way crashes on I-95 since 2010, seven happened between Old Lyme and Stonington.
"Overwhelmingly statistically, the drivers that are causing wrong-way crashes are drunk or drugged," Nursick said. "That said, I think you would need to be a social scientist" to figure out why the southeastern Connecticut crashes are more likely to be fatal.
Of the 68 wrong-way crashes The Day analyzed, at least 28 of about 150 involved drivers were under the influence of alcohol or drugs. Two of those drivers were involved in the same crash. Some of them weren't the wrong-way driver.
In the 10 fatal crashes, one driver, Frank Sundstrom, was drunk when he crashed into a car in Old Lyme in 2012, killing all three women inside. He was sentenced in August 2014 to 14 years in prison.
The two recent Stonington crashes remain under investigation.
Heat map showing clustering of wrong-way crashes on I-95 - 2010-2019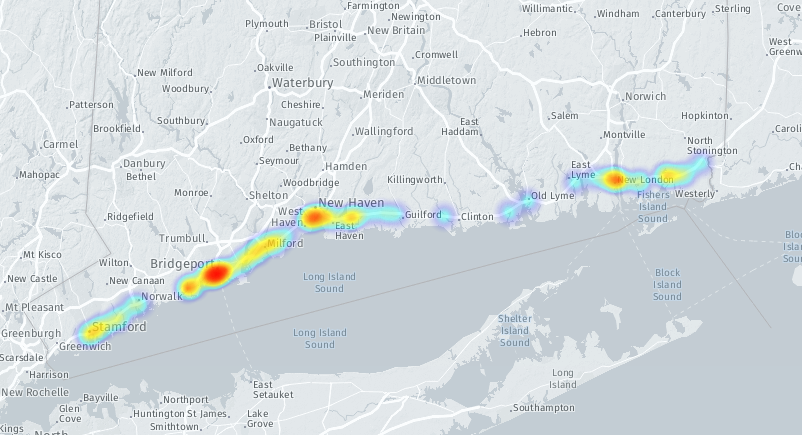 Data source: Connecticut Crash Data Repository
Sgt. Dwight Washington, a state police spokesman, said state police have quarterly "traffic incident management" meetings with DOT and local fire and police departments. If they notice a problem spot, they'll bring it up in those meetings.
But identifying problem spots can be difficult.
Nursick said the drivers who live often don't remember where they accessed the highway or how they ended up in the wrong direction. Because of the cost, DOT's traffic cameras don't store footage, but even if they did, Nursick said they may not provide the answer.
Trooper 1st Class Tanya Compagnone, a spokeswoman for the state police, said whether police can piece together a wrong-way driver's journey depends on a combination of the driver's memory, witnesses and 911 calls.
Absent those, "we may not have as good of a picture," she said.
Stories that may interest you
TRENDING
---
---