Retired police captain files lawsuit against New London
New London — Steven Crowley, a retired police captain widely known as "The Colonel," has filed a lawsuit against the city, saying it failed to uphold its end of a deal made with him in January 2012.
The deal traces back to a time when former Mayor Daryl J. Finizio had, in the midst of ordering several changes to cut the city's bloat, announced the retirement of two other police captains: Michael Lacey and William Dittman.
The incentives Finizio gave the two captains to leave prematurely were controversial. Within 30 days of taking office in December 2011, Finizio and other city officials offered, among other things, to pay for Dittman's family health insurance and a supplemental plan for seven years, or until he turned 65. For Lacey, the city agreed it would pay $40,000 a year for four years to cover the difference between his retirement benefits and his salary.
Although Finizio said at the time that he negotiated the agreements with input from the people holding the positions of personnel coordinator, law director and finance director, the City Council refused to fund the deals at least three times. Then the council learned it likely would be even more expensive to fend off lawsuits Lacey and Dittman had filed. The Council approved the settlements in July 2012.
The January 2012 retirement of Dittman and Lacey left Crowley as the department's only captain. Though lesser known, a May 2014 email exchange between Finizio and former police Chief Margaret Ackley shows Crowley, too, was offered a deal.
"If you recall," Ackley wrote in a May 19, 2014, email message to Finizio, "when Captains Dittman and Lacey were offered retirement deals back in January of 2012, Captain Crowley was the only other Captain at the time and he was told that he too would get his medical upon retirement. ... I request that Captain Crowley be provided with the benefits you verbally agreed upon in January 2012."
"I do not recall offering Captain Crowley anything," Finizio wrote back, explaining that former Personnel Director Bernadette Welch would have handled such a matter, not him.
He went on to ask whether it was legal to put the deal with Crowley in writing without the approval of City Council, which passed an ordinance restricting what can be awarded as part of a retirement deal in the wake of the Dittman-Lacey controversy.
"I will defer to the law department on how best to proceed to honor this request, which I do support," Finizio concluded.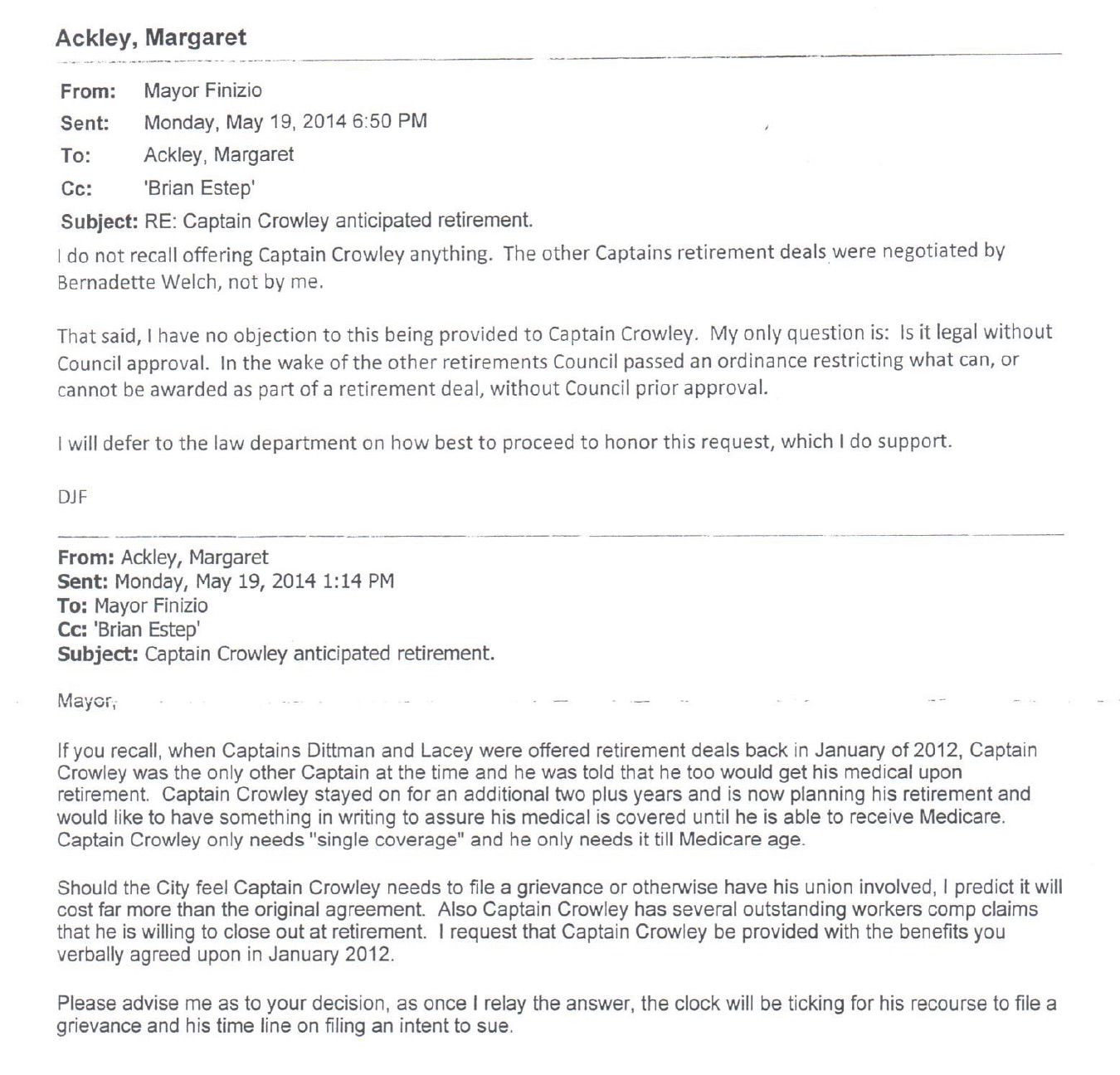 According to attorney Daniel J. Horgan, who is representing Crowley in the suit the city was served with Thursday, the offer to Crowley came in the form of a phone call from Ackley not long after the offers with Dittman and Lacey were negotiated.
"Chief Ackley made it clear that she wanted Captain Crowley to stay on and would offer him full medical coverage," Horgan explained in an email.
According to Horgan, Ackley made the deal with Crowley so he would "waive his Union rights to file a grievance against the City of New London for the disparate treatment he received vis a vis the other two Captains."
Despite that, Horgan said, Crowley has been forced to pay a few hundred dollars a month since his November 2014 retirement. That, Horgan explained, is more in line with the typical benefit package for city employees, which provides partial medical coverage until a person is eligible for Medicare.
"As a result of the forgoing breach, the Plaintiff has suffered and continues to suffer economic losses and mental anguish and emotional distress," reads the complaint, which names the city and Mayor Michael Passero as defendants.
Reached by phone Wednesday, Passero said he knew nothing of the suit — the city wasn't served until Thursday — but wouldn't be able to comment on pending litigation, regardless.
In his email, Horgan said the city has not treated Crowley fairly, even though Crowley spent more than three decades at the department.
"Captain Crowley continues to be a big advocate of the police department and the city of New London," Horgan wrote, "but feels compelled to take this step for him and for all the officers who put their life on the line every day for New London."
Steven Crowley complaint (PDF)
Stories that may interest you