Police: Salem attorney embezzled hundreds of thousands from clients
Colchester — A Salem attorney and former town Probate Court judge was arrested by two agencies on Thursday and charged with embezzling more than $430,000 from clients.
John W. Butts, 65, of 376 Hartford Road, Salem, was arrested Thursday by an inspector from the statewide prosecution bureau and charged with first-degree larceny for stealing approximately $276,000 from a client he represented in a probate matter, according to the state Division of Criminal Justice. The case was referred to the chief State's Attorney's Office by the Norwich District Probate Court.
State police also arrested Butts on a warrant charging him with first-degree larceny stemming from another investigation, according to the Division of Criminal Justice. Butts served as an estate attorney and was probate judge in Salem from 2003 to 2011. 
According to the state police arrest warrant affidavit, Kimberly Corbett in September 2015 retained Butts to handle her deceased father's estate, which included his condominium. According to the affidavit, the condo sold in December 2015 for about $166,500. After Butts deducted relevant expenses, Corbett should have received about $154,502.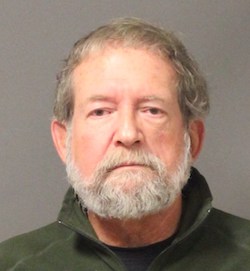 According to the affidavit, Corbett, the executor and sole beneficiary of her father's estate, never received any of that money. At one point, Corbett said she sent a text to Butts and received a response from his secretary saying he was out of the country and would wire her the money, the affidavit said.
The following month, she traveled to Connecticut and confronted him outside his Colchester office, the affidavit said. He told her he couldn't speak to her, that he'd had a "catastrophe" and that she should contact his attorney, the affidavit said.
Police said they launched their investigation in January last year, after Corbett's new attorney filed a verbal complaint.
On two occasions, the affidavit states, Corbett had to fly from Arizona to Connecticut to meet with Butts because he did not respond to her emails. Butts had been working at 151 Broadway in Colchester.
The first visit, in July 2016, was in relation to her father's final tax returns. During the second visit, the pair worked to close the father's estate. That was in October 2016.
In December 2016, Corbett texted Butts and said she would contact an attorney if he failed to immediately wire the money from the condo sale, according to the affidavit.
Documents police obtained from the Windham-Colchester Probate Court corroborated Corbett's story, according to the affidavit. So, too, did documents from his personal and business bank accounts. According to the affidavit, Butts made several payments from the account containing money belonging to Corbett. Many of the payments, the affidavit states, went to Butts or other clients, but none went to Corbett.
The Interest on Legal Trust Account containing Corbett's money never should have fallen below what was owed to her, the affidavit states, yet records show it did: While its balance was above $150,000 in January 2016, it held just $650 by February 2017. Records also indicated Butts used much of the money to pay personal expenses, the affidavit states.
Based on the charges filed, police secured a warrant for Butts' arrest and took him into custody. He is due Jan. 25 in Norwich Superior Court.
Salem First Selectman Kevin Lyden said the charges are allegations but would be upsetting to people.
"He was well known in our community and for this to happen is very disheartening," Lyden said. Butts has lived in the community for decades. "There are 4,200 people in Salem. (If) you go past somebody's house and their car door is open, you stop and call them and say, 'Is everything OK?'" Lyden said.
Butts has not been probate judge for several years, does not handle town funds and has no access to town funds, Lyden said.
Butts' license to practice law was suspended on Feb. 27, 2017, over alleged misconduct in a separate case filed in New London Superior Court by the Office of Chief Disciplinary Counsel. In that case, Butts was the attorney for Sofia Kachorowsky, executor of the estate of Anna Krywonis, court documents show. Butts was due to file an estate inventory with Norwich Probate Court, but did not respond to reminders, court records said.
The estate included at least $200,000 in "liquid assets" but the probate court fee mailed to Butts in October 2015 remained unpaid, court documents said. The final account prepared by Butts indicated there was $276,990 in assets for distribution, court documents said.
The court required Butts to cooperate with an audit of his accounts by the Statewide Grievance Committee as part of that suspension, court records show.
The audit reported Butts received $109,960 on behalf of Kachorowsky after selling 6 Curran St. in Norwich in 2014 but Kachorowsky did not receive the money. She filed a criminal complaint alleging larceny, the report said.
During the audit of one account, from December 2013 through January 2017, Butts started with a balance of $144,587 and deposited $643,877 believed to belong to clients, the audit found.
Between March 2014 and March 2015, the account held insufficient funds to cover the money belonging to the Krywonis estate, the audit said.
In May 2015, the account showed a negative balance of $15,010 when it should have held, at minimum, $90,044 belonging to the estate, the audit said.
Butts resigned from the Connecticut Bar on Sept. 19, 2017, court records show.
Stories that may interest you
TRENDING
---
---