Groton schools seek to address higher-than-average absenteeism rates
Groton — A few years ago, Northeast Academy Arts Magnet Elementary School transitioned from recognizing students with perfect attendance to celebrating those with excellent attendance, including those with one or two absences.
Every trimester, the students with excellent attendance get called to the auditorium for a certificate and a group photo.
"It takes a little bit of love, a certificate, a picture and fanfare for about 15 minutes," Principal Paul Esposito said. He added that teachers stress the importance of attendance in their newsletters, and attendance is the first topic Esposito discusses on curriculum night.
According to EdSight, the data portal for the Connecticut Department of Education, the school's chronic absenteeism rate for the 2016-17 school year was 3.1 percent. This is down from 4.5 percent in 2012-13 and 4.9 percent in 2013-14.
The chronic absenteeism rate is defined as the share of students missing 10 percent or more of school days.
By comparison, the district-wide chronic absenteeism rate in Groton is 11.3 percent, while the state average is 9.9 percent.
Chronic absenteeism was one of the factors that landed Groton on the state's list of Alliance Districts, along with a relatively low percentage of students taking college and career readiness courses, poor physical fitness performance and a low postsecondary entrance rate.
Math and science performance in Groton, however, is above state averages.
Alliance Districts are the 33 lowest-performing districts in the state, per an index of 13 factors, though many districts are excluded because they are too small or are not a traditional public school system.
Superintendent Michael Graner said that for the 2017-18 fiscal year, the district will get $600,000 from the state to be used solely on improving the factors that made Groton an Alliance District.
The district's plan proposes $32,500 as a half-year salary for a social worker to be hired at the high school "to monitor attendance and work with students and families."
"Before we really try and sit down and implement the plan to do what needs to be done, we really need to study the problem itself," Graner said.
The goal is to reduce chronic absenteeism from 11.3 percent in 2016-17 to 10.8 percent in 2017-18.
Absenteeism rates range dramatically across schools, race and income
The schools with the lowest chronic absenteeism rates in 2016-17 were S.B. Butler Elementary, at 2.5 percent, and Northeast Academy, at 3.1 percent.
S.B. Butler Principal Steve Wheeler feels that a lot of the school's efforts to reinforce strong attendance are similar to what is being done at other schools. But he added that not only do parents get a call when their child's attendance is slipping, but they also get a call if it improves after the original call — a sort of verbal thumbs-up.
S.B. Butler and Northeast Academy are the Groton schools with the lowest percentages of students eligible for free or reduced-price meals, according to 2015-16 EdSight data. Both are located in Mystic. 
West Side Middle School has one of the higher rates in Groton of eligibility for free or reduced-price meals; its chronic absenteeism rate is listed as 13.5 percent for each of the past two years.
One of Principal Jeff Kotecki's ideas to improve attendance is to put the names of students with excellent attendance in a hat at the end of each trimester, and give out prizes or offer activities. He noted that fitting art enrichment into one student's schedule improved her attendance.
"We want to have a school where kids love to be here, are excited to be here, have many opportunities to participate in things outside their regular academic classes," Kotecki said, "and that will, I think, help improve our absenteeism too here at West Side."
Fitch High School has consistently had the highest chronic absenteeism rate in the district, coming in at 17.7 percent last year.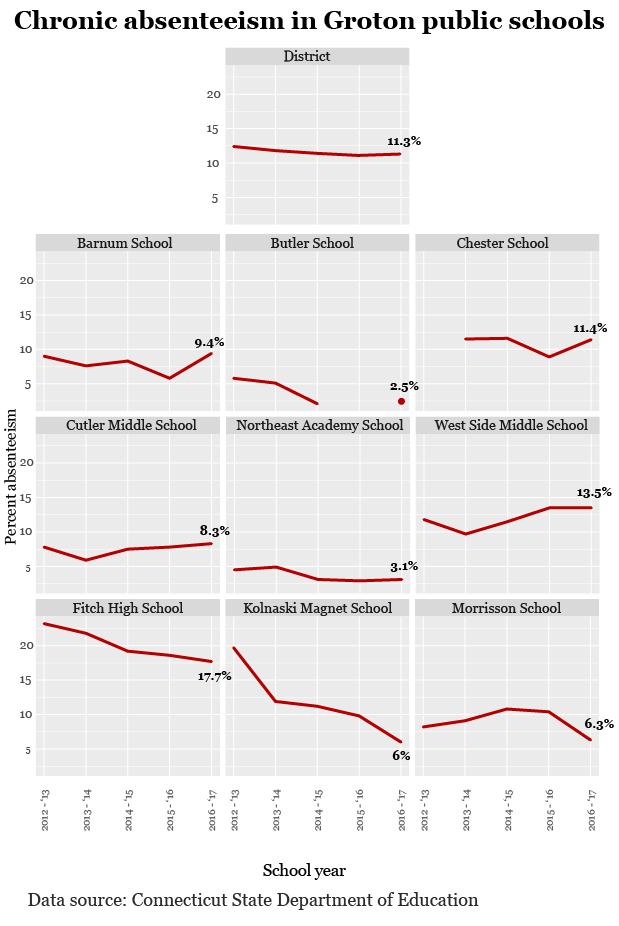 Principal Joe Arcarese said it's hard to pinpoint why the rate is much higher but cited circumstances unique to the high school level, such as increased pressure to go to college and get a job, anxiety issues and parents' increased reliance on students to get themselves to school.
EdSight data shows that seniors had the highest absenteeism rates of any grade, at 27.8 percent. The lowest was third grade, at 3.5 percent.
Fitch is one of only two schools in Groton to see its chronic absenteeism rate drop consistently every year since 2012-13, along with Catherine Kolnaski Magnet School. The rate for Catherine Kolnaski dropped from 12.8 percent in 2012-13 to 6 percent last year.
Kolnaski Principal Christine Dauphinais said that last year, the school starting sending letters to the families of any children who hit nine absences, informing them of the changes in district policy beyond 10 absences.
Across the district last year, chronic absenteeism rates were higher for boys than girls, 11.6 percent compared to 11 percent.
The racial gap is significantly wider, with absenteeism rates of 15.1 percent for Hispanic or Latino students, 14.6 percent for black or African-American students and 10 percent for white students.
Absenteeism rates were higher than the district average among students who are eligible for free lunch, high-needs students and those with special education status.
Across southeastern Connecticut, the only district with a higher absenteeism rate last year was New London, at 16.3 percent. Norwich, also an Alliance District, saw a rate of 8.5 percent.
East Lyme and Salem had the lowest absenteeism rates, at 4.5 percent each.