New London sees summer surge of restaurant changes
Jake Johnson of New London, co-owner of Jake's Diner on State Street, formerly Monica's, is reflected in a mirror behind the counter as he cleans a coffee thermos on Thursday, Aug. 2, 2018. (Tim Martin/The Day)
New London — In the three weeks since Sailfest, Jose Martinez already has noticed some regular customers at Thames Landing Oyster House, including people getting off the Fishers Island Ferry and New Yorkers coming from the train station.
City officials surely are pleased that commuters hopping off their choice mode of transportation no longer are first greeted by a vacant building.
The 2 State St. spot, which also was known as Thames Landing from 1983 to 1994, has been vacant for nearly five years.
Martinez, a New London High School and Mitchell College graduate, has worked in the restaurant industry for more than 20 years, and friends and family were asking when he would open his own place.
As both owner and head chef, he is serving up classic fried seafood and Italian/Mediterranean-style dishes. The airy restaurant has a teal palette running throughout, from the napkins to the seat cushions to paddles hung on the wall.
The opening of Thames Landing is part of a restaurant surge in the last month or so. It seems like everywhere you look on Bank and State streets — and a few other places in New London — a restaurant recently opened, is about to open, is changing locations or is under new management.
"I truly, truly believe we're seeing a little bit of a revitalization in downtown," said Felix Reyes, director of development and planning for the city. "There is a pickup in construction permits going on on State Street and Bank Street."
He attributed an uptick in restaurants in part to a healthier economy that means people have more disposable income, as well as work the city has done on blight.
Both Reyes and Kristin Clarke, executive director of New London Main Street, also attributed restaurant growth to new owners for some properties, citing investor Yehuda Amar.
"Last summer, it didn't feel like there was this much changing, especially in sort of the middle of summer," Clarke said.
Restaurants open, move, change hands
Around the corner from Thames Landing, in the former Captain's Pizza space at 8 Bank St., is Mai Thai Bar and Bistro. As was the case with other bars and restaurants, owner Kulmalee Alvelo scrambled to be open the weekend of July 13, when thousands descended upon New London for the city's biggest festival.
Since then, Mai Thai has been serving late-night bites — fries, onion rings, pizza and chicken tenders — from 11 p.m. to 3 a.m. Alvelo is working on getting her liquor license, and has plans to serve both Mai Tais and Thai food.
The spot forms a corner around the Subway restaurant, with entrances on both Bank and State streets. Alvelo hopes to eventually have the Thai restaurant open from 11 a.m. to 10 p.m., serve liquor until 1 a.m. on weeknights and 2 a.m. on weekends, and offer late-night food until 3 a.m.
The late-night idea came from her own experience working as a bartender.
"I had that problem a lot where I would finish work at the bar and I didn't have a place to go," Alvelo said.
On the State Street side, she envisions having a lounge that features a DJ or live music, like jazz.
"My concept (is) kind of like a bar in Thailand," she said, "a place where people come to hang out, listen to the music, not really like a club."
Alvelo, who moved from Thailand to the U.S. 10 years ago, at age 23, also plans to offer afternoon tea with Thai desserts.
Across the street and less than a block down are signs advertising that Bar on Bank, in the spot that was formerly Ernie's Cafe, is coming soon. It's marketed as "a merger between global flavor and local provisions." The owners did not respond to requests seeking more information on their timeline for opening.
Across from Golden Street, Pier 74 Restaurant is under new management. According to the New London City Clerk's office, a trade name certificate for 74 Bank St. was filed with the name Ivy & Azure on July 2. The Day was unable to get in contact with management.
At 138 State St., Jake's Diner on State Street will be having a soft launch on Sunday and expects to be fully open Monday. The owners are Jake Johnson and Nikole Dagrosa, former employees of Monica's State Street Diner.
Also returning from Monica's will be Tiffany McCollum and Evonne Maurice, and the owners are bringing on Bryan Cook to join Johnson as a cook.
Monica Rossi in December announced that her 138 State St. diner would be closing after 15 years in business, only to announce a few days later that the diner would be moving in with Wings 'N' Pies across the street. The diner opened at Wings 'N' Pies on Jan. 3.
Dagrosa said that Rossi left the business at the end of March and that, despite the sign remaining out front, the diner portion of Wings 'N' Pies closed May 1.
Johnson said the new diner came about through a conversation with building owner Bill Cornish, and he thanked him for the opportunity. Jake's Diner has new décor and new equipment but will serve familiar diner food.
Next door, restaurant owner Rob Bernardo said Right Path Organic Café likely will be moving to a location on Bank Street.
Dev's reopened on Thursday at 312 State St., formerly the site of Hanafin's Irish Pub. The restaurant, which celebrated its 10-year anniversary in November, previously was at 463 Bank St.
Another recent move came for Osmino's, which offers Salvadorian and Italian food. The restaurant moved from 221 Shaw St. to 639 Bank St., the Bank Street Cafe building, in June.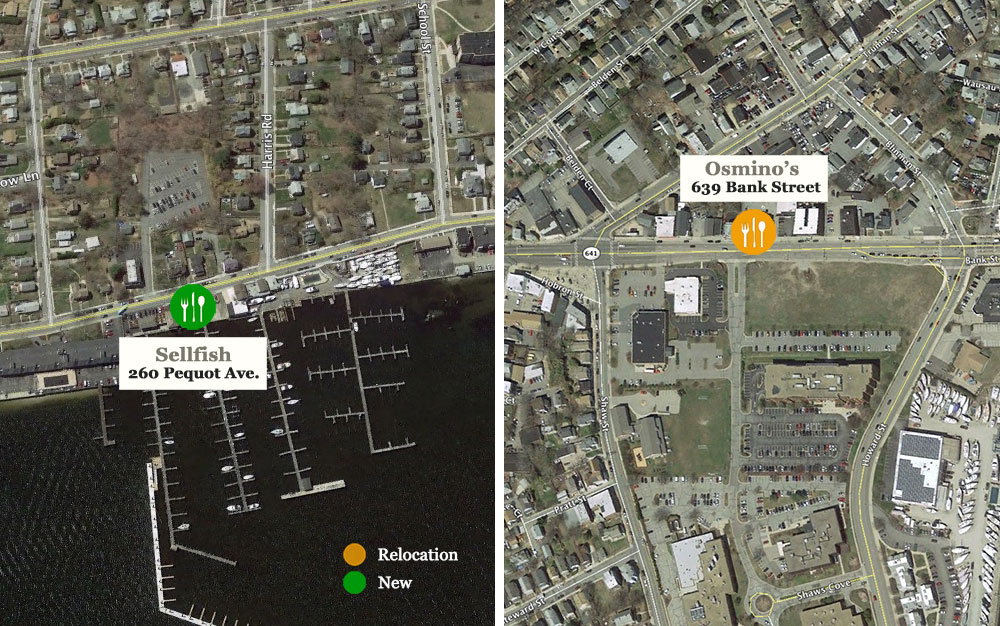 Eating pizza in a homey place or seafood with expansive water views
Altan Izmirli said this week he is opening Star Pizza at 357 Bank St. soon but doesn't have a date yet. Izmirli, who has been in the pizza industry for nearly 15 years, said he will be serving Italian-style, thin-crust pizza, along with wings, chicken tenders, salads and grinders. Star Pizza also will offer delivery.
His twist is furnishing the restaurant not like a typical pizza place but like a coffeehouse, with a couch and a coffee table, "like you walk into a home."
At 260 Pequot Ave., previously a Del's location, Ozzie Ozkan opened Sellfish the weekend of Sailfest.
Ozkan owned Wings 'N' Pies in New London, sold it at the end of 2016, and went on to open Wings 'N' Pies locations in Willimantic and Groton.
He said he has had the concept for Sellfish for a long time but couldn't find the right location, because his concept needed a water view. Now, he has 40 seats on an outdoor deck overlooking the boats at Thamesport Marina, along with 24 seats indoors.
Ozkan said he is unsure whether the restaurant will be seasonal.
Open 7 a.m. to 10 p.m. every day, Sellfish offers breakfast, lunch and dinner. With options like pan-seared scallops over pasta and a shrimp burger, Ozkan described the menu as being more than just fried seafood but not high-end.
The restaurant, which has a full liquor license, boasts of being cycle-friendly.
Ozkan indicated he chose the name in part for the mystery it evokes, saying, "Could be I'm selling fish, could be selfish, could be shellfish."
Jose L. Martinez of New London, chef and co-owner of the Thames Landing Oyster House at 2 State Street in New London, prepares coconut shrimp with a plum sauce Friday, Aug. 3, 2018. (Tim Martin/The Day)