Connecticut OCME projecting slight decrease in overdose deaths
The state could see fewer overdose deaths this year than last even as the powerful opioid fentanyl becomes increasingly prevalent, state Chief Medical Examiner Dr. James Gill said Thursday.
Gill said 515 people died by overdose through the first six months of 2018, which would lead to 1,030 fatal overdoses if the rate holds steady.
In 2017, overdoses led to the death of 1,038 people.
"Clearly this has been a priority for our leaders and we're very grateful for that," New London Human Services Director Jeanne Milstein said, when told about the data. "But there's still a long way to go" to reduce stigma, prevent opioid addiction and increase on-demand access to medication-assisted treatment, she said.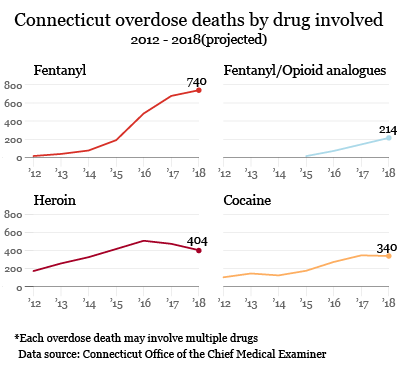 Medication-assisted treatment, or the practice of combining therapy with medications that prevent intense withdrawals and cravings, "has proved to be clinically effective" but "is greatly underused," the Substance Abuse and Mental Health Services Administration said on its website.
"So we'll still continue our 24/7 work to address these barriers and hopefully see the numbers continue to decline," Milstein said.
Seventy-two percent of those who died in the first half of the year, or 370 people, had some type of fentanyl in their systems, the data show. That includes 107 who had ingested fentanyl analogs, or drugs whose structure is similar to fentanyl's.
Illicit drug makers often create new forms of fentanyl because authorities must identify and ban each one. Among the analogs are carfentanil, a large animal tranquilizer that first showed up in New London and Norwich last year, and acetylfentanyl, which contributed to the death of Lebro Mei, a 36-year-old New London man whose body was found on the former Edgerton School property May 7. Three people have been charged with dumping his body there.
Jennifer Muggeo, supervisor of administration, finance and special projects for Ledge Light Health District, said fentanyl and its analogs could have led to New London firefighters' record use of the overdose-reversal drug naloxone in June.
A person who has ingested fentanyl, an opioid about 50 times stronger than heroin, often requires more than one dose of naloxone.
Firefighters administered 12 doses to nine patients in June, more than in any other month since at least April 2015, fire department data show.
"I'm hopeful that (the decrease in overdose deaths) means our work to raise awareness and access to naloxone is having an impact," Muggeo said. "But I don't know if we'll ever really know how many people are having overdose reversals at home without the involvement of first responders."
Muggeo said people who get naloxone through the state Department of Public Health voluntarily can report it if they use naloxone on themselves or someone else at home. Those who get naloxone through other means, including over-the-counter at pharmacies such as Rite Aid and CVS, don't have a similar venue.
"That there's a slight decrease is great news," she said. "But people are still dying unnecessarily, and some of that can be attributed to the stigma and bias that prevents people from accessing naloxone and effective treatment."
Muggeo and Milstein are part of the Opioid Action Team of Southeastern Connecticut, which has distributed naloxone, paid navigators to help get people into treatment and encouraged physicians to offer medication-assisted treatment, among other things, with the help of a $135,000 federal grant.
Norwich also formed a task force to host forums and streamline city services, while Norwich Youth and Family Services, using a $552,000 Partnership for Success grant, launched Norwich Unhooked, a campaign that uses posters, a website, events and social media to dissuade prescription and other drug misuse among youth.
"We're proud of our efforts," Milstein said. "It shows that when a community comes together, it really can make a difference."
Stories that may interest you
Police have arrested a second person linked to a Nov. 1 shooting during a fight at a Norwich house party.
---
High carbon monoxide readings led to the evacuation of a Truman Street apartment building on Friday and a utility company employee was taken to the hospital for carbon monoxide exposure.
---
TRENDING
---
---